Prestige Brands Holdings, Inc. (PBH)
Shares of PBH reached a new 52-week high on Thursday's trading session, after the company reported strong financial results that reflect continued strengthening of consumption trends among its core OTC brands as well as the addition of the recent acquisitions of Insight Pharmaceuticals and Hydralyte.
For its third quarter fiscal 2015, PBH posted total revenues of $197.6 million, a 36.4% increase year over year, and adjusted net income of $25.4 million, or $0.48 per share (including adjustments for non-recurring costs and costs related to mergers and acquisitions), versus $15.6 million, or $0.30 per share (including adjustments related to a senior note offering) in the same period the prior year, these results better than the Capital IQ Consensus Estimate of $0.40 earnings per share on revenues of $190.21 million for the period
For fiscal year 2015, PBH expects adjusted EPS to be in the range of $1.82 to $1.85 per share, and anticipates revenue growth at the high end of its previously provided outlook of 15-18%.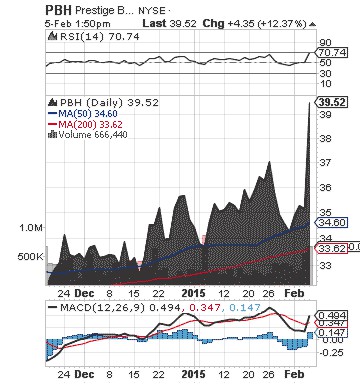 PBH markets and distributes brand name over-the-counter and household cleaning products throughout the U.S. and Canada, and in certain international markets.
More about Prestige Brands Holdings, Inc. (PBH) at www.prestigebrands.com.
**

Proto Labs, Inc. (PRLB)
The price of PRLB stock soared following the release of its financial results, highlighted by record quarterly revenue in all three geographies on a local currency basis.
For the fourth quarter 2014, PRLB posted record revenue of $56.1 million, a 27.3% increase year over year, and net income of $10.2 million, or $0.39 per diluted share, compared to $9.5 million, or $0.36 per diluted share in the same period the prior year. PRLB's non-GAAP net income for the period, excluding the after tax expense of stock compensation and amortization of intangibles, was $11.2 million, or $0.43 per diluted share
For the full year 2014, PRLB's revenue increased 28.5% to $209.6 million compared to $163.1 million in 2013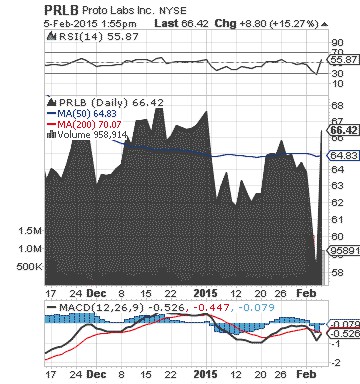 PRLB is a leading online and technology-enabled, quick-turn, on-demand manufacturer of custom parts for prototyping and short-run production.
More about Proto Labs, Inc. (PRLB) at www.protolabs.com
**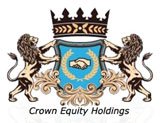 Crown Equity Holdings Inc. (CRWE)
Shares of CRWE surged in early trading on Thursday's market activity.
The company is currently developing its CRWE Network ( www.CRWE-PR.com ), a growing network of community targeted sites.
It has recently included the City of El Monte, CA ( www.elmonte.crwe-pr.com ) into the CRWE Network.
El Monte is a residential, industrial, and commercial city in Los Angeles County of Southern California. It is the hub of the San Gabriel Valley.
The City of El Monte had an estimated population in 2013 (U.S. Census Bureau) of 115,708, and represents an important marketplace for the CRWE Network, which business model is based on selling advertising to businesses targeting both locally and nationally
The CRWE Network has reached the 1487th community website in the U.S. and includes coverage in the states of California, Mississippi, Michigan, Florida, Nevada and New York, as well as across 10 provinces in Canada.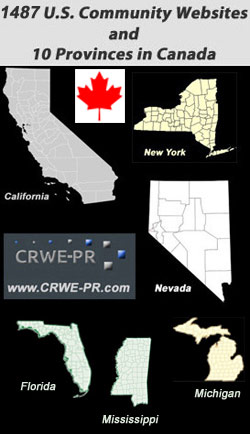 CRWE provides marketing solutions that boost customer awareness and merchant visibility on the Internet.
More about Crown Equity Holdings Inc. (CRWE) at www.crownequityholdings.com
**
Disclaimer: CRWE-PR Finance is not a registered investment adviser. This material is for informational purposes only and should not be construed as an offer or solicitation of an offer to buy or sell securities. Investors should always conduct their own due diligence with any potential investment, with independent research and other professional advice. Read Full Disclaimer at CRWE-PR Finance www.finance.crwe-pr.com/disclaimer