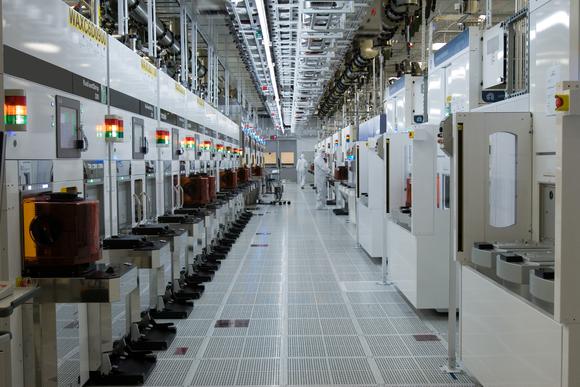 Micron Technology's (NASDAQ:MU) second-quarter earnings report wasn't pretty, with falling prices of DRAM memory chips overwhelming the company's ability to cut costs. A 30% decline in revenue was paired with a quarterly loss, and guidance calls for continued pain in the third quarter.
Beyond the numbers, management had some important things to say during the company's conference call. Here are five quotes from management, taken from the transcript provided by Thomson Reuters, that investors need to see.
Mobile market slump
While the PC market has been weak for quite some time, pressuring demand for PC memory chips, the mobile market has picked up some of the slack for Micron. That ended during the fiscal second quarter, when mobile revenue plummeted by 40% compared with the previous quarter. The company blamed the timing of product qualifications for the steep decline, and CEO Mark Durcan assured investors that things will start to look better as the year goes on:
"We do expect to finalize 20-nanometer low-power DDR4 qualifications with most customers by the end of this quarter. And this, coupled with our expectation that memory demand across the smartphone categories will continue to expand, leaves us confident that our mobile business is well-positioned for substantial growth by the fourth fiscal quarter of this year."
In addition to a severe revenue decline, the mobile segment turned unprofitable for Micron during the second quarter, with a negative segment operating margin of 4.2%. A recovery is expected in the fourth quarter, assuming that demand for smartphone memory keeps growing, but that's certainly not guaranteed. Smartphone unit growth has slowed dramatically, with IDC expecting single-digit growth this year, and falling DRAM and NAND prices could continue to pressure revenue.
Despite slowing smartphone unit growth, an increase in the quantity of DRAM per device can still drive substantial bit growth for Micron. Whether that will be enough to offset any further price declines is an open question.
Unpredictable pricing
Micron didn't attempt to predict what DRAM prices are going to do going forward, but its guidance for the third quarter assumes some continued pricing pressure. The company expects its per-bit costs to be cut significantly over the next few quarters as it ramps up its 20nm technology, but pricing will be a major factor, according to CFO Ernie Maddock:
And as I said earlier, we all have an...
More