Just hours after rejecting some version of 'repeal-and-replace' overnight, Senate Republicans have, as expected, failed to get enough votes for a key proposal from Rand Paul that would have repealed much of Obamacare.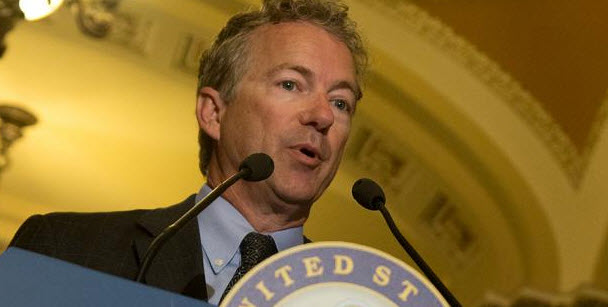 Under pressure from conservatives such as Rand Paul...
"Republicans promised to repeal Obamacare, and as we move forward in this process, I urge them to join me in supporting a clean repeal of as much of this disastrous law as possible,"
FreedomWorks, a conservative outside group, blasted out a "key vote" notice hours ahead of Wednesday's vote, arguing President Trump would sign a repeal-only bill.
"For more than seven years, Republicans successfully campaigned on ObamaCare repeal. ...Grassroots conservative activists are not going to accept excuses if Republicans fail to pass a bill that they have passed once before," the group said in a notice to members.
But, as The Hill reports, Senators voted 55-45 against his amendment that would repeal the Affordable Care Act and give lawmakers two years to come up with a replacement.
GOP Sens. Lamar Alexander (Tenn.) Shelley Moore Capito (W.Va.), Susan Collins (Maine), Dean Heller (Nev.), John McCain (Ariz.), Lisa Murkowski (Alaska) and Rob Portman (Ohio) joined all Democrats in voting no.
A vote on the amendment, which was widely expected to fail, was originally scheduled for late Wednesday morning but was delayed as senators tried to get clarity on a provision tied to abortion.
Senate Majority Leader Mitch McConnell added on Wednesday that the effort to get either an ObamaCare repeal, or an ObamaCare repeal and replace bill, through the Senate "certainly won't be easy."