Today, we saw jobs data for July that showed an increase of 38.5K jobs, which beat forecasts for a reading around 10.2K. What also surprised was the rise in unemployment rate to 6.3% from 6.1%. This is a result of more people entering the jobs market as unemployed. 

I think the market is not really going to use much of this data. It is neither impressive or worrying. In recent AUD-positive mode, the market seems to have faded the Aussie slightly after the jobs data.

AUD/USD 1H Chart 8/6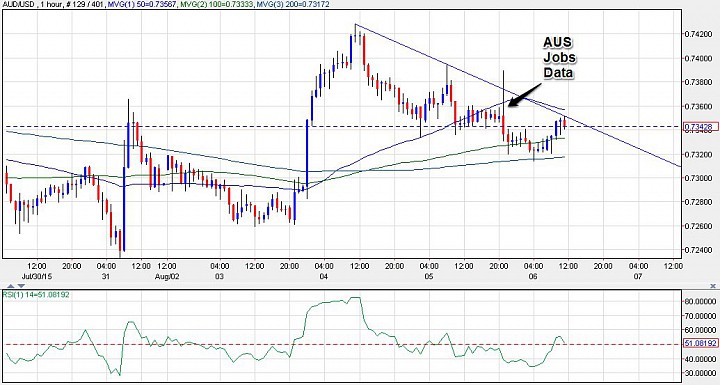 (click to enlarge)
The 1H chart shows a bit of volatility around the release of the jobs data. The market eventually respected a falling trendline and slide lower, cracking 0.7320 as it headed into the US session. 

Structure and Outlook:
The structure of the bullish price action versus the bearish ones suggest the market has a bullish bias. However, we have not built any momentum so we can't call it a trend even in th 1H chart just yet. A break below 0.73 could be a sign that AUD/USD is neutral at best if not still bearish. On the other hand, a break above 0.7360 could add to the technical signs that AUD/USD is starting a bullish trend at least in the short-term (within the context of a bearish market in the medium-term). 
AUD/NZD 1H Chart 8/6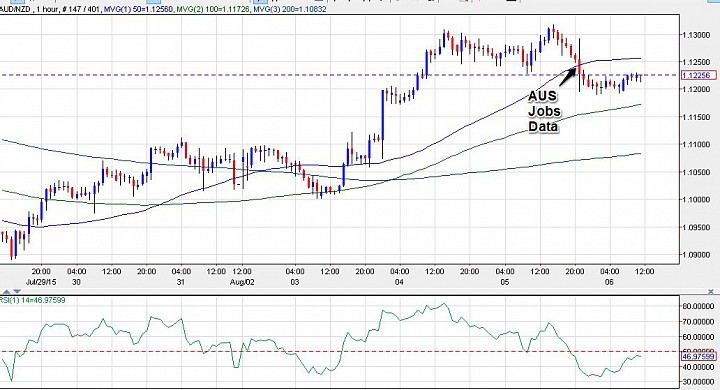 (click to enlarge)

I am more bullish on AUD/NZD especially in the medium-term. I believe we can see a medium-term bullish trend in AUD/NZD while we see a short-term bullish trend in AUD/USD, which would then turn sideways for the medium-term. 

For AUD/NZD, I am waiting for price to approach 1.11. I think there could be a nice buy there with good reward to risk profile.