A very light news and lackluster trading session until the US session got underway.  After the Prelim U of M Consumer Sentiment figure was released, the EUR began to drop.  An entry short is found as price closes below yesterday's high with a 3:1 Reward to Risk to our Target 2.  Price settled at the Asian session lows and the trade is closed.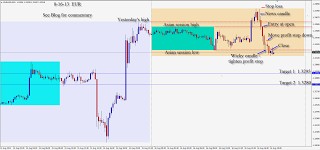 It's been another very good week of summer trading.
Back on Tuesday if can find a trade.
Good luck with your trading!
Enjoy your weekend!
If you are looking for personalized one-on-one coaching, please contact me for details of my 6 week course.
Michael  
www.privateforexcoaching.com