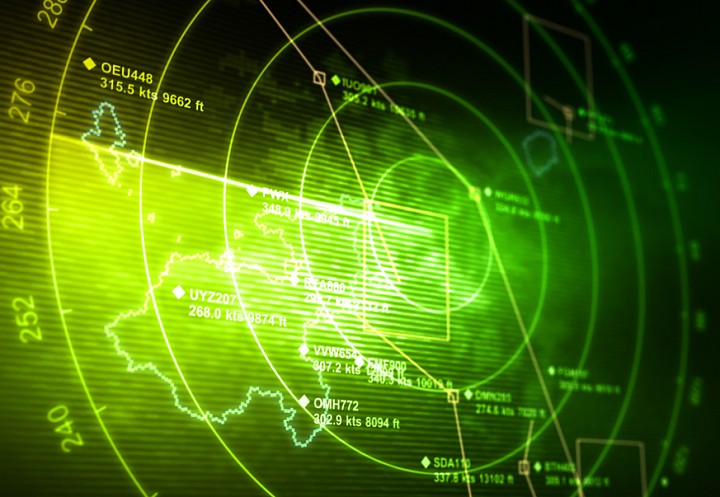 Which three under-the-radar stocks have both a Strong Buy analyst consensus rating and big upside potential? We looked for three top stocks (outside of the usual big-name tech stocks) which make compelling investing opportunities.
TipRanks tracks analyst ratings on over 5,000 stocks. These ratings are then collated into an overall analyst consensus rating- be it Strong Buy, Moderate Buy, Hold, Sell etc. The result: you can use TipRanks powerful stock screener to filter for only stocks which have a bullish outlook from the Street right now.
Even better, analysts are ranked according to their success rate and average return so you can see what only the best analysts are recommending right now in terms of 1) the overall consensus rating and 2) the upside potential of the average 12-month price target from the current share price .
Bearing this in mind, let's see what the Street has to say about the following three stocks:
1. Trade Desk Inc
Ad-tech company Trade Desk Inc (NASDAQ:TTD) has seen its share price explode since going public in September 2016. The stock is now trading at $54.45, up from just $30 at launch. And, following a very strong beat-and-raise quarter, top analysts believe TTD will continue to outperform peers.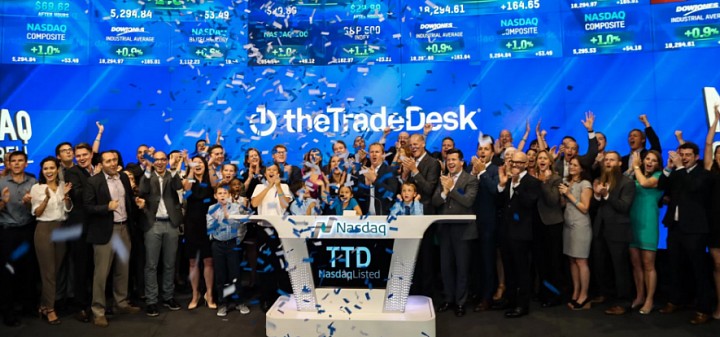 Boosted by a new Shanghai office, TTD reported revenue of $72.8 million- easily beating Street estimates of million. Mobile growth is up over 87% year-over-year while customer retention has maintained its incredibly high levels of 95%. TTD also ramped up its guidance for full year 2017 to $303 million up from $291 million.
Five-star RBC Capital analyst Mark Mahaney is confident that TTD's "self-serve platform approach and its focus primarily on large agencies, allows the business to be highly scalable". On August 10, he reiterated his buy rating and raised his price target from $56 to $65. The new price target translates into over 19% upside potential from the current share price.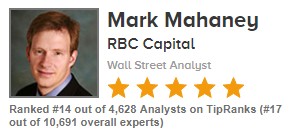 He says: TTD continues to execute against its market opportunity. The business model benefits from two key characteristics: 1) the generation of consistently robust revenue growth for several years and 2) consistent profitability on a GAAP basis… We believe the company is in a fundamentally strong position with an experienced management team to lead them, and the Q2 results reinforce that view."
And Mahaney isn't alone. TipRanks reveals that in the last three months TTD has received four back-to-back buy ratings. Meanwhile the average analyst price target of $62.25 translates into over 14% upside. The graph below shows how narrow the price targets are- with even the lowest price target of $60 still coming in above the current price:

2. United States Steel
The inclusion of one of the world's largest steel producers, United States Steel (NYSE:X), may come as a surprise. At the end of April, US Steel suffered its biggest stock collapse since going public 26 years ago. The stock crashed after reporting an unexpectedly large first quarter loss.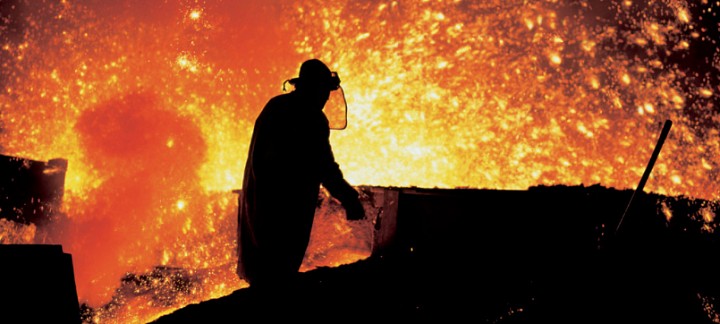 But according to the best-performing analysts on TipRanks, US Steel still has a Strong Buy analyst rating and upside potential of 56% over the next 12 months. Interestingly we can see that top analysts are much more bullish on X than analysts in general: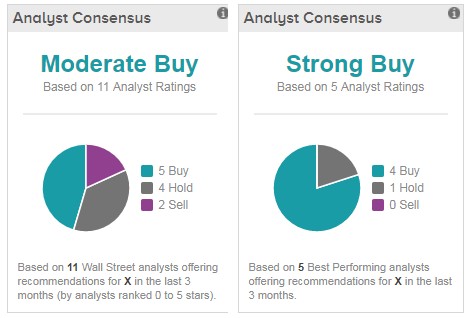 One top analyst worth listening to is JP Morgan's Michael Gambardella. He reiterated his buy rating on the stock on July 27 with a $51 price target up from $46 previously. This represents an incredible 120% upside from the current share price.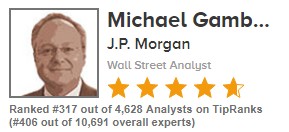 He believes that United States Steel "has brighter days ahead". For one, the entire US domestic steel industry has the committed support of President Trump. US Steel is also optimistic that the Section 232 investigation (a national-security probe of steel and aluminum imports) will ultimately lead to quotes or tariffs limiting steel imports.
And in terms of the company itself, Gambardella noted that management maintained its 2017 EBITDA guidance of $1.1 billion despite the lower price of hot rolled coil because of improved operational efficiency. US Steel also reassured investors that it is a question of 'if not when' for constructing an EAF (electric arc furnace) at its Fairfield works.
Here we can see from TipRanks that Gambardella also has a strong track record on X stock specifically. Over his 14 ratings on US Steel, he has a 79% success rate and 17.5% average return.

3. Portola Pharma
Unlike United States Steel, Portola Pharma (NASDAQ:PTLA) has seen its shares skyrocket in the last year. Shares in the biopharma, which treats thrombosis and other blood-related diseases, are up from $27 this time last year to the current share price of $55. Despite the recent surge, top analysts are confident that this stock still has plenty of upside left.
PTLA has a Strong Buy analyst consensus rating with four straight buy ratings. Analysts are also predicting further upside of over 33% from the current share price.
/blog.tipranks.com/wp-content/uploads/2017/08/portola-300x84.png" target="_blank" rel="nofollow">http://blog.tipranks.com/wp-content/uploads/2017/08/portola-... 300w, http://blog.tipranks.com/wp-content/uploads/2017/08/portola-... 768w, http://blog.tipranks.com/wp-content/uploads/2017/08/portola-... 1024w, http://blog.tipranks.com/wp-content/uploads/2017/08/portola-... 600w" sizes="(max-width: 1134px) 100vw, 1134px" />
Portola's BevyxXa, a blood-thinner for acutely ill patients not undergoing surgery, received approval from the US' Food and Drug Administration (the FDA) in late June. BevyxXa is the first approved oral drug of its kind for deep vein thrombosis and pulmonary embolisms. Investors are eagerly waiting for updates on the drug's launch, which is expected to be around early first quarter 2018.
Keep your finger on the pulse
TipRanks' database has the latest insights into over 5,000 stocks from 8 different sectors. Make the most of these insights with TipRanks' new stock screener which enables you to set the filters to match your own investing strategy.
The post Under-the-radar: 3 "Strong Buy" Stocks To Know Now appeared first on TipRanks Blog.