Towards the end of last month, we discussed a Barclays note which suggested that QE in Europe is driving investors into corporate credit as yields on euro govies tumble under the weight of the ECB's perpetual bid. Here's what this dynamic looks like in four simple charts: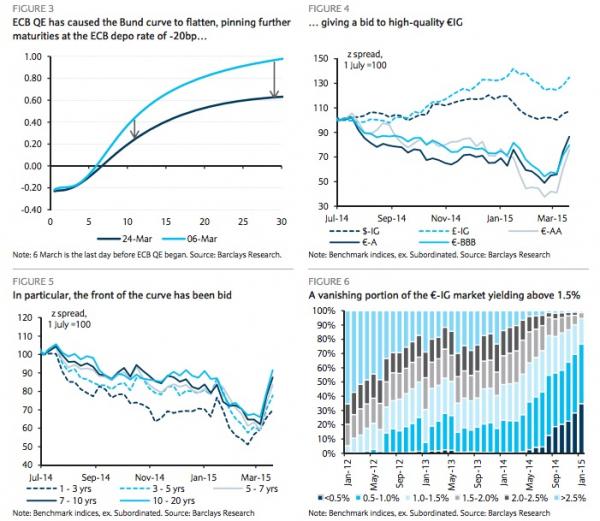 The problem with this, as we've outlined exhaustively, is that the combination of shrinking dealer inventories and heavy investor demand has the very real potential to spell trouble should everyone who has been moving into corporate credit to find yield in the face of what has been a 5-year-long episode of Central Banks Gone Wild suddenly decide, for whatever reason (e.g. an Austrian Black Swan, a Varoufakis fumble, or an "accident" near the Bab el-Mandeb), that they want out. Put simply: the secondary market isn't very liquid these days. 
Here's the latest take on the subject from UBS:
*  *  *
EU: A tenacious bubble 
We believe the European corporate bond bubble is firmly entrenched. On the one hand, we believe a return to a global systemic financial crisis with the potential to trigger a wave of corporate defaults seems rather unlikely given the deleveraging and recapitalisation efforts accomplished by banks over the last few years. On the other hand, we think a return to sustainable growth and higher inflation that could see investors move out of fixed income assets into capital appreciative equities remains elusive. While European equities have seen large inflows in Q1 this year, European corporate bond funds have also seen a surge in inflows in January and February. Admittedly, signs of improvement in European growth have become harder to ignore lately, driven by the confidence-boosting QE announcement of the ECB, lower oil prices, a weaker euro and less fiscal drag in Europe. Our economists upgraded their 2015 growth outlook for Europe last month and now expect 1.6% growth this year up from 1.2% previously. That being said, while headline inflation is moving in the right direction, it remains uncomfortably low as per our economists. The renewed deceleration in core inflation shows that underlying price pressures remain weak, despite the improved confidence in the Eurozone business cycle outlook. From the ECB's perspective, a full return of HICP to the target of "close to but below 2%" is still a long way out. Against this background, any calls for an end of the QE programme before September 2016 would appear premature. Furthermore, Greece, Ukraine, domestic politics and slow progress in structural reforms remain key risks to the European growth outlook. So, while the scenario of a return to sustainable growth and inflation in Europe over the coming quarters looks more probable it still remains a distant prospect. Nevertheless, we believe such a scenario would have the potential to "burst the corporate bond bubble" as bond yields would rise with inflation, corporate confidence would run high and a releveraging/deterioration in credit metrics would materialise resulting in bond fund outflows. The lack of liquidity in corporate bond markets would make the process particularly painful. Away from a global systemic financial crisis or return to sustainable growth, other risk scenarios wouldn't have the potential to "burst the bubble" per se, in our view. These scenarios would more likely result in selloffs of variable magnitude over a limited period of time.
*  *  *
To get an idea of trends in supply, here's a look at euro IG and HY issuance over the last several months: