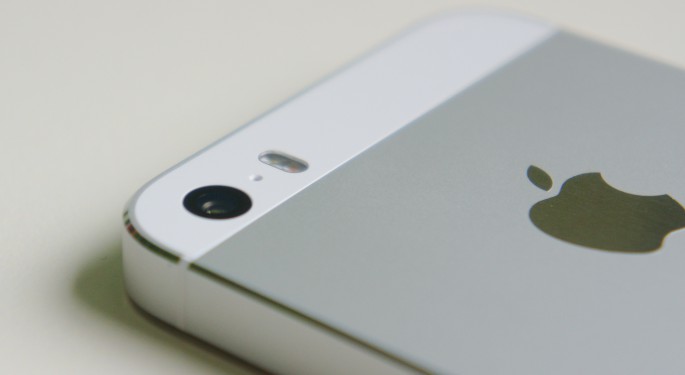 Arguably the world's two most influential investors are on the opposite ends of an issue. That issue happens to be the largest component in the S&P 500 index, Apple Inc. AAPL 3.47%.
Less than a month after Carl Icahn announced he abandoned his Apple stake, Warren Buffett's Berkshire Hathaway (NYSE: BRK-A) announced a new 9.8 million share investment in the issue. Both iconic investors have exerted considerable influence on its share price at the time of their disclosures.
A Closer Look
Icahn submarined Apple even further one day after its poor Q2 report, when shares were already under significant selling pressure. He shared his thoughts on CNBC and added a "day of reckoning" comment to help solidify his bearish thesis and 150 net short position in the market.
So far, Icahn's bearish rant is being backed by investors. Apple has fallen from the upper $90 area to a two-year low of $89.47. The index backed off the all-important resistance level of 2100 to 2030.50 (the day of the April jobs report), but has mounted a comeback.
Related Link: Why Apple Could Fall Another 11%: Fundamentals & Technicals Suggest Investors Should Stay Away
Buffett most likely wasn't buying at the same level as Icahn was before his announcement and may have sold anywhere along the way of its recent rally that peaked at $112.39 on April 14.
On the other hand, Buffett's team may have been focusing on the all-important $92 level in Apple. The reason for that being that's where it bottomed during the August Flash Crash; It bottomed at the $92.50 area in January and February.
Last Week's Action
Anyone observing the trading action in Apple last week could feel the relentless buyer at the $92 area early in the week. It breached $90 on Thursday, but bottomed at that exact level on Friday, despite weakness in the broad market.
Around 7:30 a.m. ET Monday, a 13F disclosed Berkshire's new stake in Apple. The issue immediately responded to the upside, leaping from $90.50 to $93 before taking a breather. It regained traction after the open at $91.65 and resumed its rally.
At this time, Apple is revisiting a very important resistance area. From May 6-11, the issue peaked in a narrow range from $93.45 to $93.77. It has reached $93.75 in today's session and backed off slightly.
From a technical perspective, if Apple can clear this area, it may find additional resistance at another high in that area that was made on May 5 at $94.07. Above that level, the daily charts open up until the pair of highs from May 3 ($95.74) and May 4 ($95.90).
It's always interesting when two well-known long-term investors square off in the marketplace, especially when the issue in focus happens to be the largest company in the world.
© 2016 Benzinga.com. Benzinga does not provide investment advice. All rights reserved.