Today the US released data on industrial production for the month of August.
The report showed a 0.4% increase month-over-month, which while slightly missing the consensus estimate of 0.5%, was still the best month in the last 6.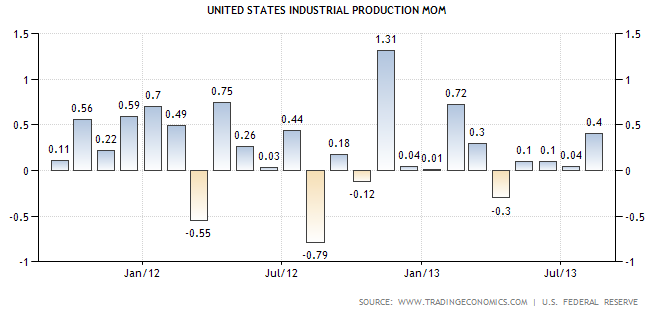 The figure would have been even better if we take out the weakness this month from utilities.  Manufacturing industrial production was up 0.7%, the largest on month increase since December 2012. Therefore, this report should be taken as a positive for the US economy, as it shows that the manufacturing sector had a good month - and we should anticipate that considering the ISM Manufacturing PMI was very strong for the month.
Also, looking at this report from the year-over-year change, we see a 2.7% increase. This helps stall a 4-month period of weakness, and is the second best reading we've had over the past year. I believe it bolsters the case that the US economy's recovery - while certainly not gang-busters - is proceeding along at a modest pace.
Granted the macro data isn't as important today following the gaps we have in financial markets in the wake of the Summers news, but it does give a good data point along the way for us to consider as we view the US economy against other developed nations - where it continues to lead the way.
- Nick