We now live in a world where Mercedes Benz has outsold Audi with an 11% y/y jump in sales. November was the 5th month in a row that sales gains at MB outpaced BMW.   All 3 luxury auto manufacturers are relying on demand surges in China to counterbalance the demand in the US and the EU, and Audi and Mercedes Benz vow to surpass BMW in sales by the end of the decade. In fact MB vows that 2013 will be the luxury auto manufacturers best year in India so there's something to be said for the BRIC nations' becoming demand drivers for this industry with China leading the way.   South Korea's luxury car imports are expected to rise around 10% in 2014.  Is this the push that Audi and MB are looking for to beat out BMW?  Reasons for South Korea's projected increase in demand include currency appreciation and lower tariffs on cars imported from Europe.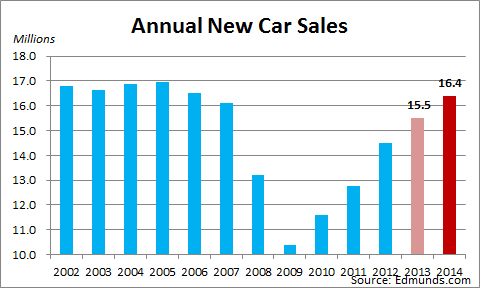 Is BMW worried? Absolutely not, in fact, the luxury automaker anticipating BRIC demand is set to open a a plant in Brazil by the fall of 2014 in order to keep pace with the growing demand. The plant will begin producing vehicles by 2016, and its not the first BMW plant in Brazil as the company already has a motorcycle.  Keeping up sales and expansion isn't BMW's concern. According to reports, their biggest dilemma is what to do with the BMW M7 as Audi, Mercedes, and Jaguar with the S8, the S63AMG and the XJR, respectively seem to dominate that segment of the luxury auto market.  Maybe that's the safer option for now as BMW's caused quite an uproar with its M3 and M4 branding snafoo...
 Despite that little branding snafoo, BMW has nothing to be worried about as Audi just announced it will increase spending on R&D including new models, plants and technology "in an effort to catch up with BMW" say people familiar with the matter.  Audi would have to sell at least 2 million cars a year to surpass BMW and that's what it intends to do. VW owned Audi is projected to spend more than EUR 20 billion on global operations through 2018 which is about EUR 4 billion a year as compared with the EUR 2.6 billion budget as of December 2011. Funds will be used in part to setup factories in China and Mexico. Additionally, the CEO announced that its current fleet of 49 vehicles will be expanded to 60 vehicles by 2018 and have hinted at a Q8 and A9...
As the WSJ reported, Audi briefly caught up in 2012, but clearly could not hold on to that lead..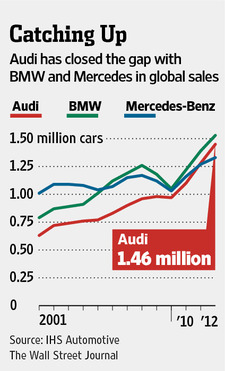 Even as early as Q1-13, BMW had nothing to worry about as shown in the graph below.