A look at the possible double bottom
The AUD/NZD has traded sideways in 2014, after a sharply bearish 2013. 
You can see the AUD/NZD trade below a falling 200-day SMA throughout 2013. This reflects a persistently bearish market.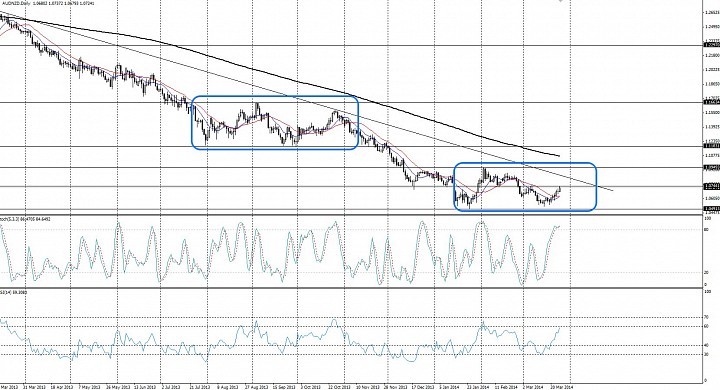 (AUD/NZD daily chart)
Bottoming?
Still, the 2014 consolidation can bring in speculation of a price bottom, but before we jump to a premature conclusion that goes against the prevailing trend, let's remind ourselves of a similar pattern in 2013. 

Analogy of 2013 price action?
The daily chart shows that during August to Nov 2013, there was also consolidation, and a possible double bottom. It failed to complete the bottoming action, and the trend extended lower.
Resistance
As the current rally picks up, we should be aware of possible trend following trades waiting  to short around 1.0950, the 2014 high.
In fact if the market is indeed bearish, there might even be resistance here around 1.0750, as price tests a support/resistance pivot, which I would also call the "central pivot" of the 2014 consolidation range.  
Stochastic
Also note that the stochastic is above 80, and last few times it did that, the market soon followed with a bearish swing. 
So, are we doing this again?