Backed by growth in rents and high occupancy, Prologis, Inc. PLD reported second-quarter 2017 core funds from operations ("FFO") per share of 84 cents, beating the Zacks Consensus Estimate of 78 cents. It also improved from the year-ago quarter figure of 60 cents.

Further, this industrial real estate investment trust (REIT) raised its core FFO per share outlook for full-year 2017 amid solid operating fundamentals and higher net promote income.

The company posted revenues of $766.2 million, which beat the Zacks Consensus Estimate of $658.7 million. The figure compared favorably with the prior-year number of $602.2 million.

Quarter in Detail

At the end of the second quarter, occupancy level in the company's owned and managed portfolio was 96.2%, expanding 10 basis points (bps) year over year. The increase in occupancy in the U.S. portfolio was 70 bps from the prior-year quarter.

During the quarter under review, Prologis signed 47 million square feet of leases in its owned and managed portfolio compared with 49 million square feet in the year-ago period.

Prologis' share of net effective rent change was 24.0% in the reported quarter compared with 17.8% recorded a year ago. The figure was led by the U.S., which recorded an impressive 29.0% growth. Cash rent change was 11.2%, as against 7.9% in the year-ago quarter.

Net effective same-store net operating income (NOI) registered 4.6% growth compared with 6.1% increase reported in the prior-year period. This was driven by 5.2% growth reported in the U.S. Cash same-store NOI climbed 7.2% compared with 5.3% reported in the year-ago period, reflecting 8.0% growth in the U.S. portfolio.

In second-quarter 2017, Prologis' share of building acquisitions amounted to $37 million, development stabilization aggregated $560 million, while development starts totaled $897 million. Further, the company's total dispositions and contributions were $410 million.

Liquidity

Prologis ended the quarter with $3.7 billion of liquidity. In addition, during the reported quarter, the company and its co-investment ventures accomplished $2.9 billion of financings, mainly denominated in sterling and yen. Finally, the company exited second-quarter 2017 with cash and cash equivalents of $271.4 million, down from $395.8 million at the end of the prior quarter.

Outlook Raised

Prologis raised core FFO per share outlook for full-year 2017. The company now projects core FFO per share in the range of $2.78–$2.82, up from $2.72–$2.78 guided earlier, reflecting an increase of 5 cents at the mid-point. The Zacks Consensus Estimate for the same is currently pegged at $2.75.

The company anticipates net effective same store net operating income (NOI) (Prologis share) to grow at 4.75–5.25% compared to the previous outlook of 4.50–5.25%.

Our Take

We are encouraged with a better-than-expected performance of Prologis in Q2. Amid a consistent shift toward e-commerce and supply chain strategy transformations, the company is well poised to benefit from its capacity to offer modern distribution facilities in strategic in-fill locations. Despite anticipations of supply increase, it is likely to stand out in the lot given the high demand for its high quality locations.

Prologis currently carries a Zacks Rank #2 (Buy). You can see the complete list of today's Zacks #1 Rank (Strong Buy) stocks here.

Prologis, Inc. Price, Consensus and EPS Surprise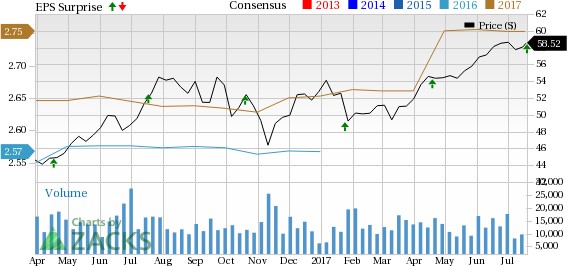 ProLogis, Inc. Price, Consensus and EPS Surprise | ProLogis, Inc. Quote
We now look forward to the earnings releases of other REITs like SL Green Realty Corp. SLG, Equity Residential EQR and Liberty Property Trust LPT. SL Green is slated to report second-quarter earnings on Jul 19, while Equity Residential and Liberty Property Trust have their earnings releases scheduled for Jul 25.


Note: All EPS numbers presented in this write up represent funds from operations ("FFO") per share. FFO, a widely used metric to gauge the performance of REITs, is obtained after adding depreciation and amortization and other non-cash expenses to net income.


5 Trades Could Profit "Big-League" from Trump Policies

If the stocks above spark your interest, wait until you look into companies primed to make substantial gains from Washington's changing course.

Today Zacks reveals 5 tickers that could benefit from new trends like streamlined drug approvals, tariffs, lower taxes, higher interest rates, and spending surges in defense and infrastructure. See these buy recommendations now >>

Want the latest recommendations from Zacks Investment Research? Today, you can download 7 Best Stocks for the Next 30 Days.
Click to get this free report
Equity Residential (EQR): Free Stock Analysis Report
ProLogis, Inc. (PLD): Free Stock Analysis Report
SL Green Realty Corporation (SLG): Free Stock Analysis Report
Liberty Property Trust (LPT): Free Stock Analysis Report
To read this article on Zacks.com click here.
Zacks Investment Research