Focus: Italy, France break out, EWI, EWQ, XHB, RHT, CRZO, REGN
Editor's Note: This is a free edition of The Technical Indicator, a daily MarketWatch subscriber newsletter. To get this column each market day, click here.
CINCINNATI (MarketWatch) — The U.S. markets' bull trend, though persistently jagged, is technically intact.
Consider that the S&P 500 Index has maintained support at the March low, while the small- and mid-cap benchmarks remain within striking distance of record territory.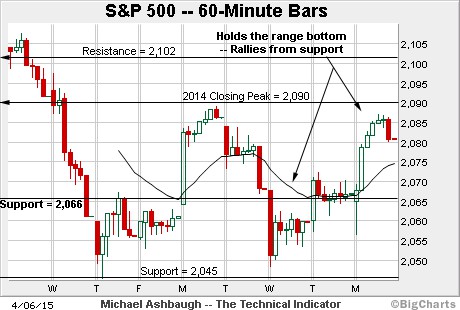 Before detailing the U.S. markets' wider view, the S&P 500's hourly chart highlights the past two weeks.
As illustrated, the S&P is traversing a well-defined two-week range.
From current levels, initial resistance holds at the 2014 closing peak, and is followed by additional overhead just above the 2,100 mark.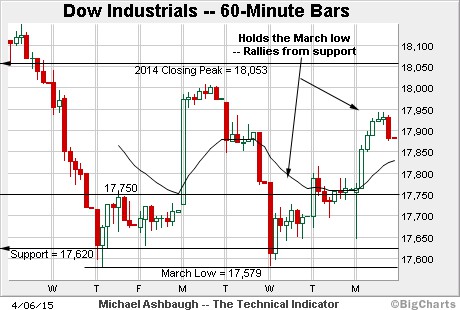 Meanwhile, the Dow industrials' backdrop is similar.
The index bottomed last week just six points above the March low, and has rallied from support.
On further strength, the 18,000 mark has been a sticking point, and is closely followed by the 2014 closing peak.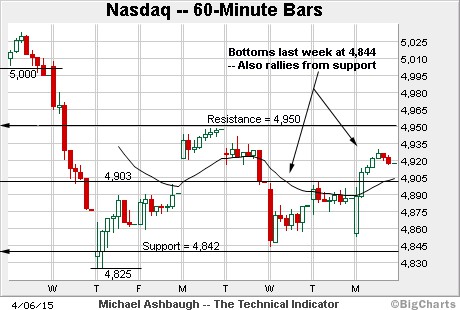 And the Nasdaq Composite's backdrop is equally range-bound.
Looking ahead, notable resistance holds around 4,950, and is followed by an inflection point at the 5,000 mark.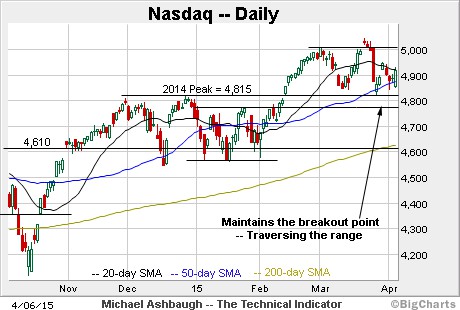 Widening the view to six months adds perspective.
On this wider view, the Nasdaq has maintained a posture atop the 4,815 breakout point, a level matching the March low of 4,825.
Its intermediate-term bias points higher barring a violation of this area. (See the November breakout, and subsequent three-month consolidation phase.)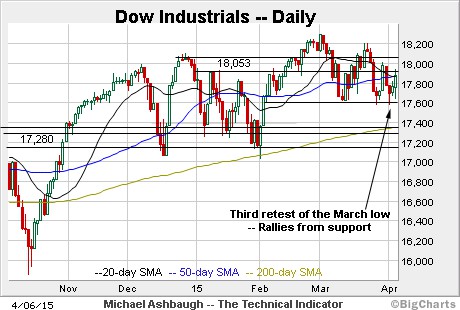 Moving to the Dow, its six-month backdrop remains weaker.
Still, the index has survived a third retest of the March low — Dow 17,579 — bottoming last week just six points higher.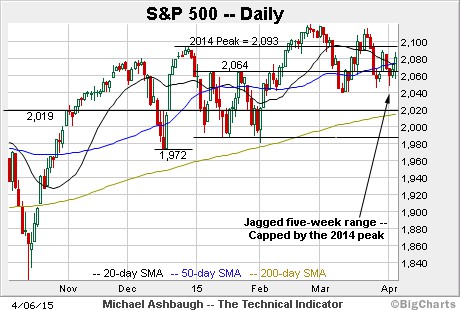 And the S&P 500 is traversing a jagged five-week range.
Consider that it bottomed last week just above the late-March low, and has risen within view of resistance at the 2014 peaks.
The bigger picture
Broadly speaking, the U.S. markets' intermediate-term technical bias continues to point higher.
Beyond the headline benchmarks, consider the following: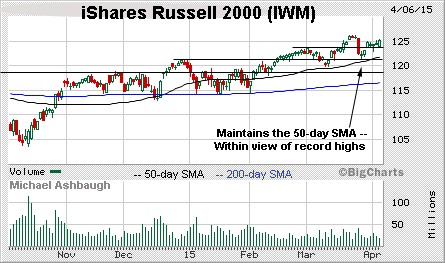 Returning to the small-caps, the iShares Russell 2000 ETF IWM, +0.03% has rallied from its 50-day moving average, reasserting a posture atop its former breakout point.
The reversal places the IWM within striking distance of its all-time high of 126.32. (Its record closing high rests at 125.99.)