The PC market has been witnessing shipment declines over the past few years and second-quarter 2017 was no exception. According to the recently released worldwide PC shipments data by independent research firms — Gartner Inc. IT and International Data Corporation ("IDC") – the downward trend in the PC industry persisted in the second quarter.
Although the numbers of both firms are different, the comments indicate that the worldwide PC market has been stabilizing, of late.
The preliminary data released by Gartner depicts that PC shipments in the quarter were down 4.3% year over year to 61.1 million units. The decline marked the 11th straight quarter of year-over-year fall, which is the longest duration of decline in the history of the PC industry. Also, the second-quarter shipment marked the lowest volume since 2007.
IDC too has almost similar tallies. Per the research firm, worldwide PC shipment totalled 60.5 million in the second quarter, representing a 3.3% decline on a year-over-year basis. The decline, however, was lower than IDC's earlier forecast of 3.9%.
As usual, there were slight differences between the data provided by the two research firms. This is mainly due to different techniques used for tracking PC sales, as well as the inclusion and/or exclusion of certain products. For example, unlike Gartner, IDC includes Chromebooks, which run on Alphabet Inc.'s GOOGL Chrome operating system. Gartner, on the other hand, takes into account Microsoft Corporation MSFT tablets and "detachables" such as the iPad Pro and the Asus Transformer, which are not taken into account by IDC.
Higher Prices Thwarting Demand
Although the firms have arrived at different figures due to difference in data compilation techniques, both highlighted almost similar reasons for the plunge. Both agreed that shortage of key components, including DRAM, SSD and LCD panels, is escalating PC prices, in turn thwarting the overall demand.
To counter higher component cost situation, different vendors tried different approach. Mikako Kitagawa, principal analyst at Gartner, said, "Some decided to absorb the component price hike without raising the final price of their devices, while other vendors transferred the costs to the end-user price."
Region-Wise Performance
Talking about the geographical performance, the firms agreed that overall PC shipments across every region dropped during the quarter. However, as per IDC, which shows Japan's sales separately, the country witnessed year-over-year growth for the fourth consecutive quarter.
Per Gartner, PC shipments in the U.S declined 5.7% year over year to 14 million units, primarily due to poor consumer PC demand, partially offset by continued decent growth in the business segment. Additionally, the firm noted that strong Chromebook demand adversely affected the traditional PC demand. Notably, Gartner does not take into account Chromebook sales while compiling worldwide PC shipment data.
PC shipment in Europe and the Middle East and Africa (EMEA) declined 3.5% year over year to 17 million units, according to Gartner. In the region, sales in the UK and France remained weak. While organizations were seen delaying purchases due to uncertainty around the UK elections, spending on PCs remains sluggish in France. On the other hand, PC unit sales in Germany witnessed strong growth as organizations continue to invest on Windows 10 based new hardware.
In Asia/Pacific, PC shipments dropped 5.1% year over year to 21.5 million units, mainly due to dismal demand in India and China, per Gartner. The research firm stated that increased demand in the first quarter due to demonetization effect has cooled off in the second quarter in India. Apart from this, higher PC prices and lack of large tender deals compared with the year-ago quarter, also negatively impacted PC sales in India. On the other hand, PC unit sales in China were mainly affected due to higher prices.
In Japan, PC industry continued to display strength, according to IDC which provides the data separately for the country. Per the research firm, PC shipment will continue to show recovery from the 2015 and 2016 levels "with further transition from desktop to notebook in the commercial sector, but more importantly a number of refresh projects to replace PCs bought during the last upgrade cycle four years ago."
Top Vendors List
The second quarter may have just turned the fortunes around for HP Inc. HPQ, as the company once again gained its top position by replacing Lenovo, per Gartner. Also, this was the fifth consecutive quarter of year-over-year shipment growth for the company, following five back-to-back quarters of underperformance.
The spin-off from its parent, Hewlett-Packard Company, and restructuring initiatives, such as focus on product innovations, pricing, marketing and sales activities, divestment of non-core assets and cutting jobs to lower costs, are apparently paying off at last.
Gartner stated that among the top five vendors, in PC sales, HP Inc. and Dell recorded growth, while Apple AAPL, Lenovo and Asus witnessed declines during the second quarter. Jumping to the first spot with a market share of 30.5%, HP Inc. witnessed year-over-year growth of 6.5% in PC shipment. Dell holds the second position with a market share of 27.7% and registered growth of 1.9%.
Lenovo slipped to the third position from the first spot in the first quarter. The company's PC shipment fell 16.3% year over year and now has a market share of 13.2%. Apple and Asus also registered year-over-year decline of 9.6% and 40.7%, respectively. While Apple holds the fourth spot with a market share of 11.8%, Asus is in the fifth position with 3.2% share.
In the top vendors' list, IDC has a slightly different opinion. While HP Inc. is the top vendor here also, the research firm has different names for the second and third position. Per IDC, Lenovo is in the second spot, while Dell holds the third position. Similar to Gartner, IDC also puts Apple and Asus on the fourth and fifth position, respectively.
What's Ahead?
Though both research firms reported a year-over-year decline in global PC shipments, the forward looking statements indicate that the PC industry has been moving toward stabilization.
Jay Chou, research manager, IDC Worldwide Personal Computing Device Tracker, noted, "Despite recent issues wrought by component shortages and its effect on system prices, we expect the momentum of commercial market replacements will contribute to eventual market growth. Consumer demand will remain under pressure, although growth in areas like PC gaming and the increasingly attractive portfolio of sleek Windows-based systems will help push the consumer market to stabilize as well."
Furthermore, Gartner does not include Chromebook shipments in data compilation which is showing tremendous growth. Last year, Chromebook shipments grew a whopping 38%, while the total PC market dipped 6%.
Ms. Kitagawa said, "The Chromebook is not a PC replacement as of now, but it could be potentially transformed as a PC replacement if a few conditions are met going forward." She further added "For example, infrastructure of general connectivity needs to improve; mobile data connectivity needs to become more affordable; and it needs to have more offline capability."
Computer - Peripheral Equipment Industry 5YR % Return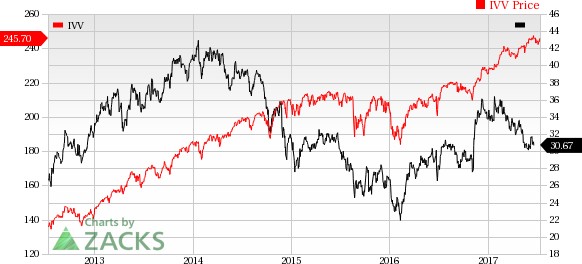 The aforementioned positive comments on the PC market by two industry experts will provide a respite to the PC vendors, as well as the companies which are dependent on the PC industry.
An improving trend in PC shipments will benefit the business prospects of companies like HP Inc., Microsoft, Intel Corporation INTC, Seagate Technologies STX and Western Digital WDC, which continue to depend substantially on PC sales.
Currently, HP Inc. and Microsoft, both carry a Zacks Rank #2 (Buy). You can see the complete list of today's Zacks #1 Rank stocks here.
More Stock News: 8 Companies Verge on Apple-Like Run
Did you miss Apple's 9X stock explosion after they launched their iPhone in 2007? Now 2017 looks to be a pivotal year to get in on another emerging technology expected to rock the market. Demand could soar from almost nothing to $42 billion by 2025. Reports suggest it could save 10 million lives per decade which could in turn save $200 billion in U.S. healthcare costs.
A bonus Zacks Special Report names this breakthrough and the 8 best stocks to exploit it. Like Apple in 2007, these companies are already strong and coiling for potential mega-gains. Click to see them right now >>
Want the latest recommendations from Zacks Investment Research? Today, you can download 7 Best Stocks for the Next 30 Days. Click to get this free report
HP Inc. (HPQ): Free Stock Analysis Report
Western Digital Corporation (WDC): Free Stock Analysis Report
Seagate Technology PLC (STX): Free Stock Analysis Report
Gartner, Inc. (IT): Free Stock Analysis Report
Alphabet Inc. (GOOGL): Free Stock Analysis Report
Apple Inc. (AAPL): Free Stock Analysis Report
Microsoft Corporation (MSFT): Free Stock Analysis Report
Intel Corporation (INTC): Free Stock Analysis Report
To read this article on Zacks.com click here.