Seven months. That's how long it took for Energy Transfer Equity LP's deal to buy Williams Cos. to crumble.
In late September, this merger between some of the biggest pipeline operators in the U.S. was touted by analysts as a winning proposition, one that would form a massive empire of oil and gas networks spanning the country. It was an idea so compelling that Energy Transfer offered to pay $6 billion of what was then a $32.9 billion deal in cash.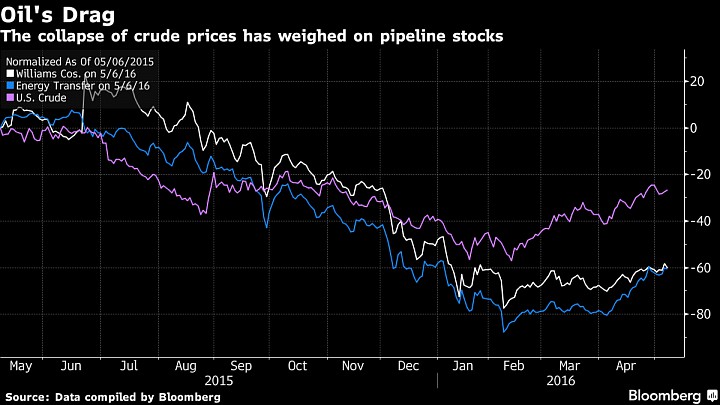 Oil's plunge changed everything. It wiped out half the value of both companies. Suddenly Energy Transfer Chief Executive Officer Kelcy Warren's bet looked expensive. And then things began to really unravel. Energy Transfer fired its chief financial officer. Then it held a private unit offering without Williams's blessing -- a sale Williams would later call "malicious" and sue over. Today, the two are fighting each other in court for alleged breaches to the terms of their agreement and are arguing over a tax opinion crucial to getting the deal done.
The drama has Wall Street so convinced the takeover will fail that traders have started pricing the companies individually again instead of as a merged entity. Energy Transfer's latest comments have "solidified for a lot of people that it's unlikely the deal happens on current terms -- or at all," Jefferies LLC analyst Chris Sighinolfi said by phone Friday.
Reputation Risk
The trail of destruction that Energy Transfer will have left in its wake...
More