Santander-Chrysler venture opens window into race to bottom
Wall Street's insatiable debt machine fuels lax underwriting
It's classic subprime: hasty loans, rapid defaults, and, at times, outright fraud.
Only this isn't the U.S. housing market circa 2007. It's the U.S. auto industry circa 2017.
A decade after the mortgage debacle, the financial industry has embraced another type of subprime debt: auto loans. And, like last time, the risks are spreading as they're bundled into securities for investors worldwide.
Subprime car loans have been around for ages, and no one is suggesting they'll unleash the next crisis. But since the Great Recession, business has exploded. In 2009, $2.5 billion of new subprime auto bonds were sold. In 2016, $26 billion were, topping average pre-crisis levels, according to Wells Fargo & Co.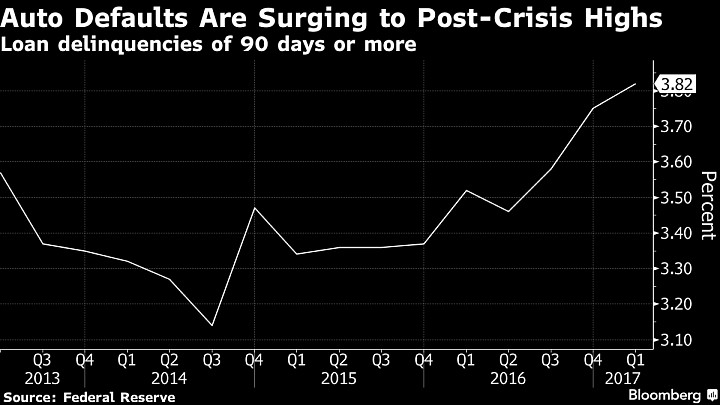 Few things capture this phenomenon like the partnership between Fiat Chrysler Automobiles NV and Banco Santander SA. Since 2013, as U.S. car sales soared, the two have built one of the industry's most powerful subprime machines.
Details of that relationship, pieced together from court documents, regulatory filings and interviews with industry insiders, lay bare some of the excesses of today's subprime auto boom. Wall Street has rewarded lax lending standards that let people get loans without anyone verifying incomes or job histories. For instance, Santander recently vetted incomes on fewer than one out of every 10 loans packaged into $1 billion of bonds, according to Moody's Investors Service. The largest portion were for Chrysler vehicles.
Some of their dealers, meantime, gamed the loan application process so low-income borrowers could drive off in new cars, state prosecutors said in court documents.
Through it all, Wall Street's appetite for high-yield investments has kept the loans -- and the bonds -- coming. Santander says it has cut ties with hundreds of dealerships that were pushing unsound loans, some of which defaulted as soon as the first payment. At the same time, Santander plans to increase control over its U.S. subprime auto unit, Santander Consumer USA Holdings Inc., people familiar with the matter said.
Lending Practices
Santander, subpoenaed or questioned by a group of about 30 states regarding its auto loan underwriting and securitization activities, declined to comment on "active legal matters." In May, Santander agreed to pay $26 million to settle allegations brought by Delaware and Massachusetts as part of ongoing investigations into the auto industry's lending practices. Santander, whose partnership with Chrysler goes by the Chrysler Capital brand name, neither admitted nor denied wrongdoing.
Reid Bigland, Chrysler's U.S. sales chief, said Santander has been a "good partner."
In recent years, lending practices in the subprime auto industry have come under increased scrutiny. Regulators and consumer advocates say it takes advantage of people with nowhere else to turn.
For investors, the allure of subprime car loans is clear: securities composed of such debt can offer yields as high as 5 percent. It might not seem like much, but in a world of ultra-low rates, that's still more than triple the comparable yield for Treasuries. Of course, the market is still much smaller than the...
More