Danvers, MA-based Abiomed Inc. ABMD, a leading developer, manufacturer and marketer of medical products, reported first-quarter fiscal 2018 earnings of 45 cents per share, which came ahead of the Zacks Consensus Estimate of 42 cents. The figure was also higher than 29 cents in the year-ago quarter.
In the reported quarter, revenues increased roughly 29% year over year to $132.5 million approximately, outpacing the Zacks Consensus Estimate of $130.0 million. The year-over-year upside was supported by robust performance of the Impella heart pump product line. The Impella heart pump product line's robust performance supported the year-over-year upside.
Quarter Highlights
Globally, Impella heart pump's global revenues grew a strong 30% to $127.2 million in the quarter.
U.S. Impella revenues improved 28% to $114.7 million (driven by a 27% increase in patient utilization). Outside the U.S., revenues shot up 53% to $12.5 million. Germany accounted for the majority of the international revenues, which grew 62% on a year-over-year basis.
During the reported quarter, the installed base for Impella 2.5 heart pumps in the U.S. grew by 16 hospitals, raising taking the installed customer base total to 1,154 sites. The installed customer base for Impella CP heart pumps grew by 46 U.S. hospitals, reaching a total of 1062.
Overall operating income for the reported quarter came in at $33.1 million or 25.0% of operating margin (as a percentage of revenues), compared with $21.2 million or 20.6% in the prior-year quarter.
Abiomed's gross margin in the first quarter was 83.5%, compared with 85.4% in the first quarter of fiscal 2016.
Financial Condition
Abiomed's cash and cash equivalents were $44.0 million as of Jun 30 compared with $39.0 million as of Mar 31,. Notably, management announced that the company currently has no debt.
ABIOMED, Inc. Price, Consensus and EPS Surprise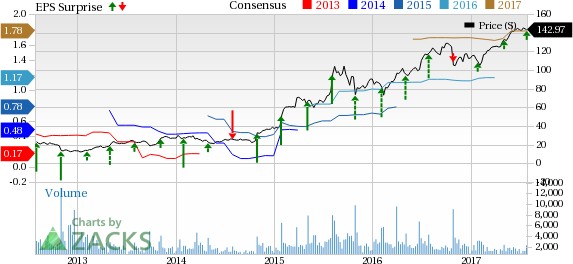 ABIOMED, Inc. Price, Consensus and EPS Surprise | ABIOMED, Inc. Quote
Guidance
Abiomed forecasts fiscal 2018 revenues in the range of $560 million to $575 million. This marks an increase of 26–29% from the fiscal 2016 level. Operating margin is projected in the band of 22% to 24%.
Our Take
Going forward, we believe that robust demand for the Impella product line will continue to drive Abiomed's top line over the long term. The company's expanding product portfolio will improve its penetration into both the prophylactic high-risk PCI and cardiogenic shock patient market going forward. This is evident from the fact that both Impella 2.5 and CP continue to add centers in the U.S. New publications regarding the devices in leading medical journals help in promoting their utilization and effectiveness.
Although Abiomed's significant international presence helps broaden its customer base among other positives, fluctuations in currency exchange rates can adversely impact the company's international sales. Fluctuations in currency exchange rates can adversely impact Abiomed's international sales, although the company's international presence broadens its customer base.
Zacks Rank & Key Picks
Abiomed has a Zacks Rank #2 (Buy).
Other better-ranked stocks in the broader medical sector are Edwards Lifesciences Corporation EW, CryoLife, Inc. CRY and Fresenius Medical Care Corporation FMS. Notably, Fresenius Medical Care sports a Zacks Rank #1 (Strong Buy), while Edwards Lifesciences and CryoLife have a Zacks Rank #2. You can see the complete list of today's Zacks #1 Rank stocks here.
Fresenius Medical Care represents an impressive return of 4.3% over the last one year. The company delivered a solid earnings surprise of 20.5% in the last-reported quarter.
Edwards Lifesciences has a long-term expected earnings growth rate of 15.2%. Notably, the stock has a one-year return of 2.3%.
CryoLife yielded a strong return of 35.8% over the last one year. The stock delivered a positive earnings surprise of 20% in the last-reported quarter.

The Hottest Tech Mega-Trend of All

Last year, it generated $8 billion in global revenues. By 2020, it's predicted to blast through the roof to $47 billion. Famed investor Mark Cuban says it will produce ""the world's first trillionaires,"" but that should still leave plenty of money for regular investors who make the right trades early.

See Zacks' 3 Best Stocks to Play This Trend >>
Want the latest recommendations from Zacks Investment Research? Today, you can download 7 Best Stocks for the Next 30 Days.
Click to get this free report
Fresenius Medical Care Corporation (FMS): Free Stock Analysis Report
ABIOMED, Inc. (ABMD): Free Stock Analysis Report
Edwards Lifesciences Corporation (EW): Free Stock Analysis Report
CryoLife, Inc. (CRY): Free Stock Analysis Report
To read this article on Zacks.com click here.
Zacks Investment Research