The cancer drug market is already valued at over $100 billion but is still growing at one of the fastest compound annual growth rates in entire the pharmaceutical industry. The underlying reason for this surge in oncology drug sales is the emergence of breakthrough products like Bristol-Myers Squibb's checkpoint inhibitor Opdivo, along with the seemingly never-ending rise in cancer incidence rates across the globe.
That said, the market hasn't exactly been applying rich premiums to the share prices of most cancer therapy stocks of late, perhaps making some of these stocks great bargains for patient investors. Armed with this insight, here is a deeper look at two cancer stocks that are arguably ridiculously cheap based on the long-term prospects of their respective clinical pipelines.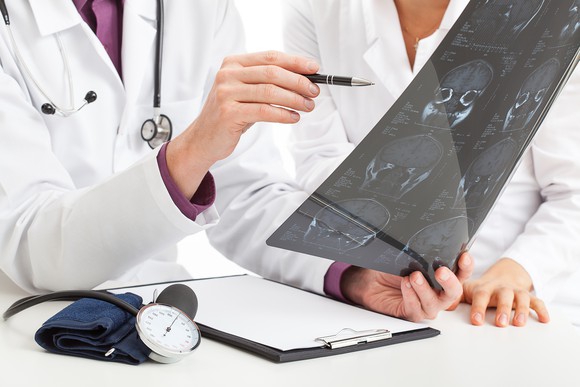 Big pharma is starting to take interest in this tiny immuno-oncology company
Agenus (NASDAQ:AGEN) is a tiny cancer immunotherapy company that sports an immense pipeline of checkpoint inhibitors and modulators targeting a rich array of receptors with known anti-tumor properties. As a result, the company has been able to attract partnerships with both Incyte Corp. (NASDAQ:INCY) and Merck & Co. (NYSE:MRK) to help advance its anti-cancer checkpoint inhibitor platform.
The Incyte partnership has already led to the launch of a combined phase 1/2 clinical trial for theanti-GITR checkpoint antibody INCAGN1876in solid tumors, and the two companies are also reportedly close to initiating another early stage trial for an OX40 agonist antibody sometime in the back half of 2016.
The Merck collaboration is reportedly starting to pick up steam as well. Agenus noted in its second-quarter earnings call, for instance, that Merck has now selected a lead product candidate to advance into preclinical studies, triggering a $2 million milestone payment. The underwhelming part, though, is that Merck hasn't revealed much about the details of this collaboration with Agenus, making it difficult to place a long-term value on this joint effort.
Apart from its collaborations with Incyte and Merck, Agenus is apparently also listening to offers to license out its proprietary CTLA-4 antibody that's currently in a phase 1 stage for advanced solid tumors...
More