Introduction

Lear Corporation, incorporated on January 13, 1987, is engaged in providing automotive seat systems and individual seat component parts. The company has two segments: seating segment and electrical segment. The company's seating business consists of the design, development, engineering, assembly and delivery of seat systems. The company's electrical business consists of the design, development, engineering and manufacture of complete electrical distribution systems that route electrical signals and manage electrical power within a vehicle. Lear has manufacturing, engineering and administrative capabilities in about 34 countries with 219 locations. As of December 31, 2014, it had 23 operating joint ventures located in seven countries. Of these joint ventures, seven are consolidated. Fifteen of the joint ventures operate in Asia, seven operate in North America and one operates in Europe.
Performance
The company's very successful, judging by its operating activities: it's increasing revenues and net income, while having the P/E and P/S rations below ones of the industry.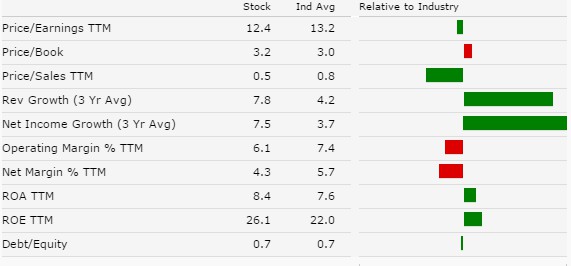 Source: Morningstar.com
Lear shows stable stable growth, the problems arise only when there are negative factors, influencing the whole industry.
Lear's stock fell by almost 15% in the last month, after reaching a high of $103.74 on September 8. The company's main competitor Delphi Automotive also declined. Share prices of GM and Ford, of which Lear is a main supplier, dropped by 7% and 16% respectively in the last month.
The declines in stock prices of Lear and Ford could also be due to the recent strike by around 760 workers in Lear's Hammond plant in the U.S., halting production for one day in an attempt to get rid of the unfair two-tier wage system. As this plant was connected to Ford by producing seats and other equipment for the Ford Explorer and Taurus, strike at Lear had an impact on production activities at Ford as well. In order to prevent further strikes, Lear accepted demands of trade union, raising wages. Despite the recent interruptions, Lear looks to be headed for strong growth. In addition to high vehicle demand in key markets, boosting volumes for Lear's automaker clients and in turn for the company, interior content percentage in vehicles is also rising. The company is also to take advantage of improving premium vehicles sales.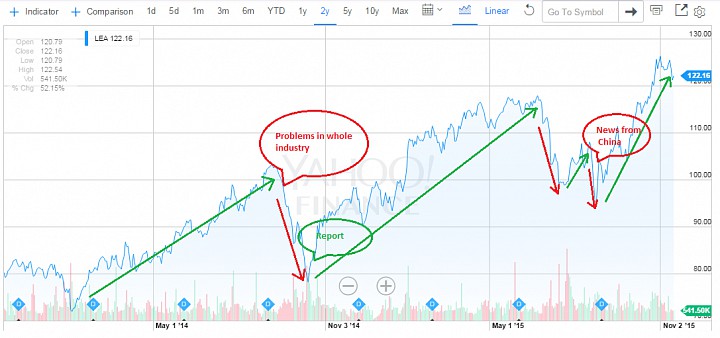 Source: Yahoo Finance
In the 3rd quarter the company improved its main metrics, which proves that it is very successful. Diluted Earning per share attributable to Lear increased by 36%.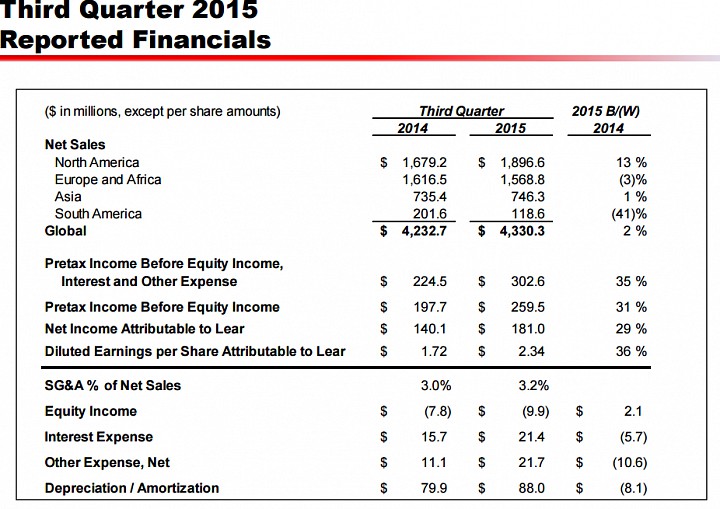 Source: Company's Q3 report
Favorable conditions
The Lear's success is explained by the following facts.
Lear benefits from several key trends in the automotive industry, specifically the increased importance of interior features and increasing automatisation within the cars.
In seating industry(which brings up to 75% of revenue), marginality increased from 5,5% to 7,2%, while Lear being one of two key suppliers to global automotive original equipment manufacturers. The company recently acquired Eagle Ottawa, giving the company greater exposure to leather seating. LEA also benefits from the North American shift towards larger vehicles such as full-size SUV's. The value of a seating system to LEA in those vehicles can approach $2000 vs. $1000-$1200 for a pickup truck and $500 for a compact automobile, with higher value systems bringing in higher margins (up to 15% in the full-size SUV category).
In electrical industry(which brings 25% of revenue), marginality increased from 13,3% to 14%, while Lear being one of the top-four suppliers in a fragmented industry. LEA produces electric distribution systems that are a key component in the automated driving systems, wireless components (Bluetooth, keyless entry, etc.) and hybrid cars that are becoming more dominant in new automobiles. Due to increasingly stringent emissions standards and falling battery costs, hybrid and full-electric drivetrains will likely continue to gain share in the future. The electronics are expected to be more sophisticated in the future, increasing total marginality for Lear.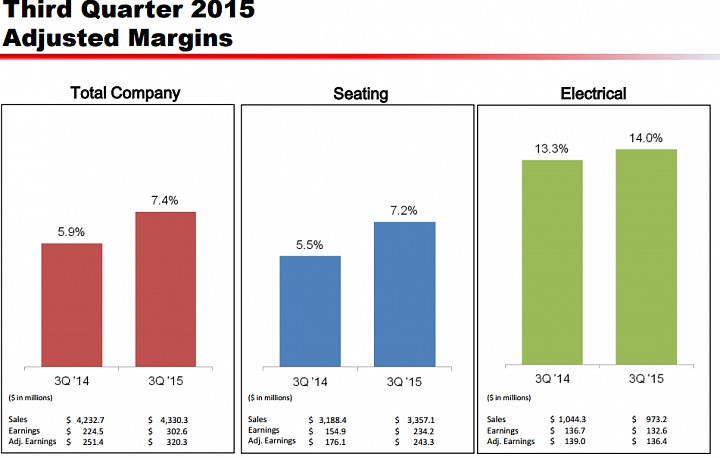 Source: Company's Q3 report
Takeover bid
At the beginning of October there were whispers that Faurecia (number 1 interior manufacturer in the world) might take over Lear Corp.
A merger of these two companies would create on the one hand a greatseating champion. The seating segment of Lear would add scale and benefit from the comprehensive interior product range of Faurecia. On the other hand, Faurecia would benefit from Lear's innovative Electrical segment which offers powerful solutions for car electrification and more. Together, they have the potential to reach the top spot of global automotive suppliers in terms of revenues. As the seating segment has already seen much consolidation, competition authorities would have to approve such a merger.
The market reacted instantly and bullishly to the possible creation of a new interior giant, adding 14% to the price.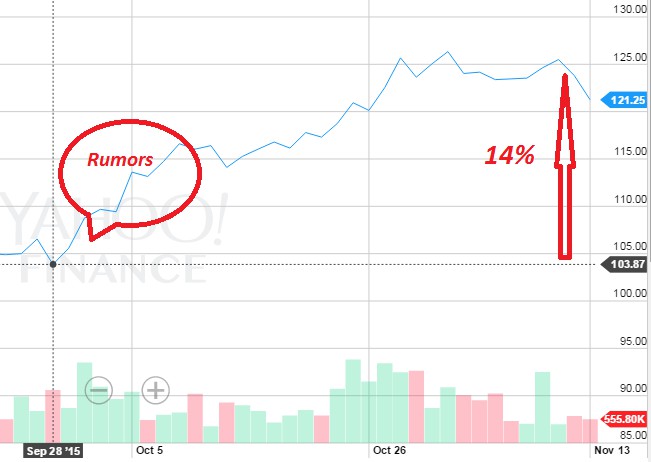 Source: Yahoo Finance
The share price growth is no exception to the general rule of takeover bids.
When Delphi agreed to buy the HellermannTyton Group (supplier), the Hellermann shares skyrocketed, gaining 43%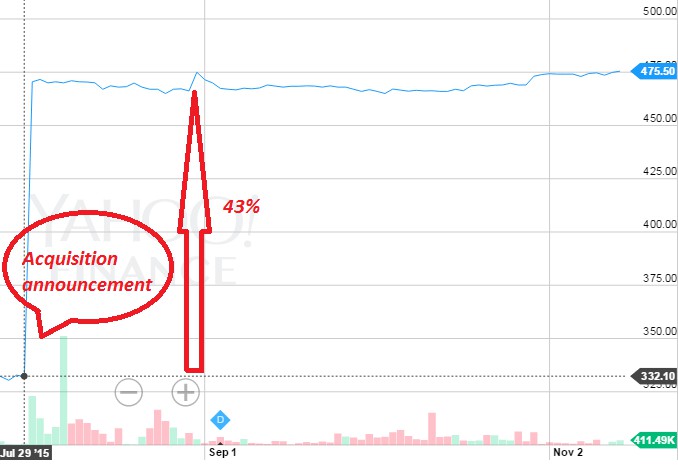 Source: Yahoo Finance
Conclusion
We see Lear Corp. as a BUY due to the fact that the company is steadily growing, having a unique product line. Moreover, the product line is improving as well as its marginality. Lear constantly surpasses investors' expectations, smoothing negative impacts on the share price. All these facts in total makes the investment enticing. Also, we believe that the takeover bid, which has already been included in the price, yet may influence the following growth.
Disclaimer
We are neither holding, nor planning to open any position. We are merely presenting our opinion, intended to be used in the WhoTrades Investment Strategy Contest.