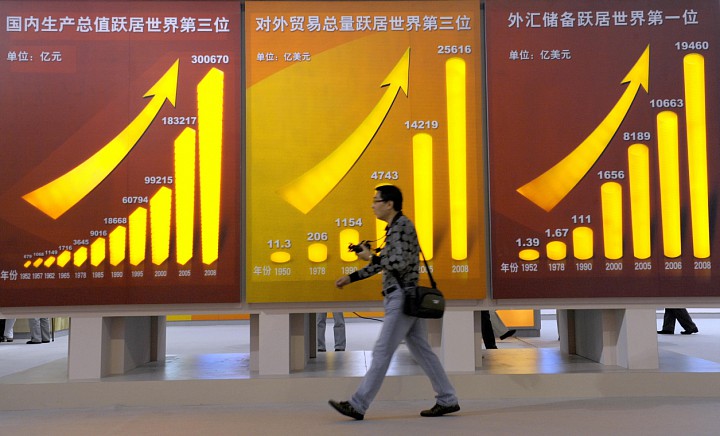 China's economic growth waned to a five-year low of 7.3 percent last quarter, raising concerns of a spillover effect on the global economy but falling roughly in line with Chinese leaders' plans for a controlled slowdown.
The third quarter figures, released Tuesday, put China on course for annual growth somewhat lower than the 7.5 percent targeted by leaders, though they have indicated there is wiggle-room in their plan. The world's No. 2 economy grew 7.5 percent from a year earlier in the previous quarter and 7.4 percent in the first quarter.
Communist leaders are trying to steer China toward growth based on domestic consumption instead of over-reliance on trade and investment. But the slowdown comes with the risk of politically dangerous job losses and policymakers bolstered growth in the second quarter with mini-stimulus measures.
Employment, however, remained strong through the third quarter and the service industries such as retailing that leaders want to promote have done well this year despite the downturn, which has been focused largely in the property market, said economist Julian Evans-Pritchard of Capital Economics.
"There is still a lot of downward pressure on the economy," Evans-Pritchard said. Spending on infrastructure shored up growth in the second quarter but "once that fizzled out, the downward pressure has returned."
A further slowdown in China's economy would likely cause some damage to the U.S. economy, the world's largest, as well as commodity producers such as Australia, Indonesia and Brazil that have grown accustomed to strong Chinese demand.
Mark Zandi, chief economist at Moody's Analytics, estimates that each 1 percentage point drop in China's economic growth shaves 0.2 percentage point from annual U.S. growth, which is equal to the effect of a $20-a-barrel increase in oil prices.
Still, the third-quarter figure beat expectations by many economists of about 7.2 percent, or lower, which could have increased calls for a new round of major stimulus measures that the government can ill afford after a debt fueled investment binge in response to the 2009 global recession.
"Although growth has slowed, it reflects a welcome rebalancing away from excess investment in certain sectors of the economy and is not cause for significant concern," Evans-Pritchard said in a report.
"With policymakers now prioritizing employment and economic rebalancing over growth, we don't think they will feel the need to act aggressively to shore up the economy in response to today's data," he said.
China's growth in industrial production was largely stable, with a rate of 8.5 percent year-on-year in the first three quarters, down 0.3 point from the first half, the National Bureau of Statistics reported. Investment in factories, real estate and other fixed assets rose 16.1 percent year-on-year, but real estate investment lagged at 12.5 percent growth in the first nine months of 2014 due to government controls imposed to curb a surge in housing costs.
Growth in consumer spending cooled to 11.6 percent in September, the fourth monthly decline in a row.
"Overall, the national economy remained stable and made progress and improved in quality over the first three quarters," bureau spokesman Sheng Laiyun told reporters at a news conference.
"However, the domestic and international environment remains complicated and economic development still faces many difficulties and challenges," Sheng said.
Source: http://abcnews.go.com/