Snap Inc. SNAP just released its third quarter fiscal 2017 financial results, posting earnings of a loss of 14 cents per share and revenues of $207.9 million. Currently, SNAP is a #3 (Hold), and is down 16.3% to $12.64 per share in trading shortly after its earnings report was released.
Snap:
Beat earnings estimates. The social media company reported earnings of a loss of 14 cents per share, beating Street consensus estimates of a loss of 15 cents per share. Net loss came in at $443.2 million for the quarter.
Missed revenue estimates. The company saw revenues of $207.9 million, lagging behind our consensus estimate of $236 million.
Daily active users (DAUs) grew to 178 million in Q3, an increase of 17% year-over-year and 2.9% quarter-over-quarter. This sequential growth was much slower than the 4.2% in Q2 and 5% in Q1.
Average revenue per user (ARPU) was $1.17, reflecting an increase of 39% from the prior year period. Hosting costs per DAU grew as well, and were 68 cents for the quarter.
Here's a graph that looks at Snap's price, consensus, and EPS surprise:
Snap Inc. Price, Consensus and EPS Surprise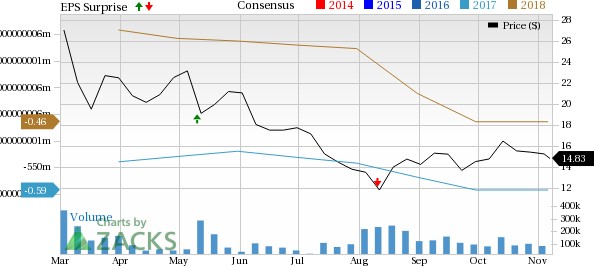 Snap Inc. Price, Consensus and EPS Surprise | Snap Inc. Quote
Snap Inc. provides technology and social media services. The Company's principal product Snapchat, is a camera application that helps people to communicate through short videos and images. Snap Inc. is headquartered in Venice, California.
Zacks' Hidden Trades

While we share many recommendations and ideas with the public, certain moves are hidden from everyone but selected members of our portfolio services. Would you like to peek behind the curtain today and view them?

Starting today, and for the next month, you can follow all Zacks' private buys and sells in real time. Our experts cover all kinds of trades: value, momentum, ETFs, stocks under $10, stocks that corporate insiders are buying up, and companies that are about to report positive earnings surprises. You can even look inside portfolios so exclusive that they are normally closed to new investors. Click here for Zacks' secret trade>>
Want the latest recommendations from Zacks Investment Research? Today, you can download 7 Best Stocks for the Next 30 Days.
Click to get this free report
Snap Inc. (SNAP): Free Stock Analysis Report
To read this article on Zacks.com click here.
Zacks Investment Research