Last week, Fortescue, the world's fourth largest iron ore miner, did something "disciplined and prudent": they pulled a failed bond offering. Some observers suggested that perhaps the reason the issue wasn't well received was because a three-year chart for iron ore prices looks like this: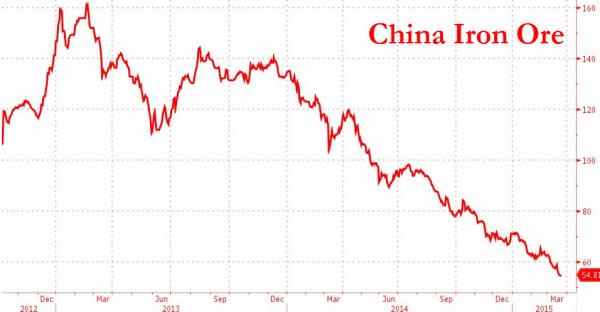 The company doesn't see it that way though and as CFO Stephen Pearce was quick to remind the media, Fortescue's cost curve position is "bulletproof." Not only that, but production costs didn't factor into the deal's lukewarm reception either. So essentially it's a mystery if you let the company tell it. The other interesting thing about the failed refinancing is that it didn't really fail. Here's CEO Nev Power:
"The bond issue didn't fail, we walked away…because we weren't getting the pricing we wanted out of it."
Right. So it failed. See the thing about refinancing something is that you do it to take advantage of lower rates, so when the market wants 9% to do the deal, but the debt you're refinancing yields 7%, that's really a lot like failure as far as refinancing things goes. In any event, Fortescue doesn't blame this not-failure on iron ore nor does the fact that industry giants are doing their best Saudi Arabia impression have anything to do with it. Instead, it's Janet Yellen and oil's fault.
Via WSJ:
The company's net profit fell 80% in the six months to the end of December.

 

Mr. Power said a sharp fall in oil prices earlier this month and uncertainty about the path of U.S. Federal Reserve policy caused jitters among investors ahead of its planned bond sale last week. The issue had mostly been marketed to U.S. bond investors…

 

Despite Mr. Power's assertion that Fortescue is in "great shape," some analysts believe the company has been a victim of a strategy by iron-ore giants Rio Tinto PLC and BHP Billtion PLC to keep raising their iron-ore output even as prices fall.
Fortunately, Fortescue doesn't have anything maturing for two years so it's got some time to spare but in a bind, Power notes that the company can always sell assets. Here's more from WSJ:
The company could also sell and lease back some of its assets.

 

Mr. Power also suggested that the group's mining assets, based in the Pilbara region of Western Australia, could be an attractive asset for buyers, as all of the investment needed to build the mines and to start operating them had already been made.

 

"Now is the perfect time for investors who want to have certainty around production and cash flows and an operating history for those assets," Mr. Power said.
But before anyone goes out and starts an Australian iron ore mine crowdfunding site, consider the following from Citi:
We remain bearish iron ore and re-iterate our expectation that prices will fall below $50/t. Downside levels will be determined primarily by mining cost deflation and underlying Chinese steel demand as deleveraging limits inventory levels.

 

Demand has improved seasonally but remains fundamentally weak. Real Chinese steel demand fell significantly year-on-year in January and February. While we have entered a strong seasonal period, we still see fundamental headwinds.

 

Deleveraging limits the market's ability to absorb increased supply. Chinese iron ore inventories are falling, but this is a reflection of deleveraging across the industry and may well continue. Given the lack of ability to finance iron ore inventories, increased supply must be met by lower prices in the absence of improved demand.

 

Steel production is likely to remain weak in the near-term given weak domestic demand, the impact of the removal of export subsidies on boron (time will be needed to switch to chrome), and still modest steel margins.