At the global scale, Internet usage occurs predominantly on mobile phones, yet in the world's developed nations, more than 50% of Internet usage occurs on desktops. This presents a geo-division that business must address to succeed in international ventures.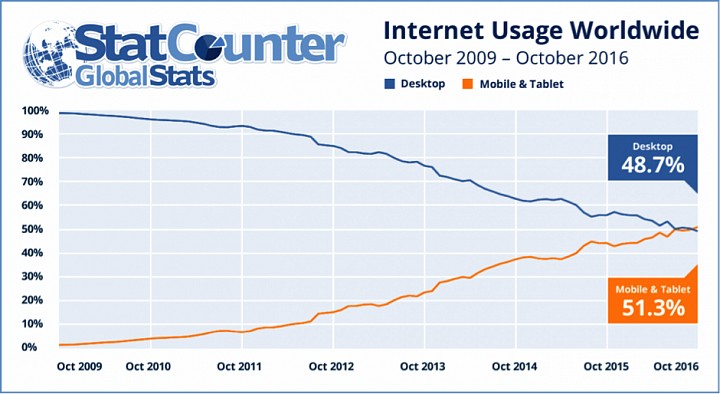 StatCounter's Numbers
StatCounter announced that, globally, mobile and tablet browsing accounts for 51.3% versus the 48.7% that accounts for desktop browsing. At the national level, a few countries unexpectedly fall outside the global average—where Internet usage is still largely desktop-bound—such as the UK (55.6%), US (58%) and Australia (55.1%).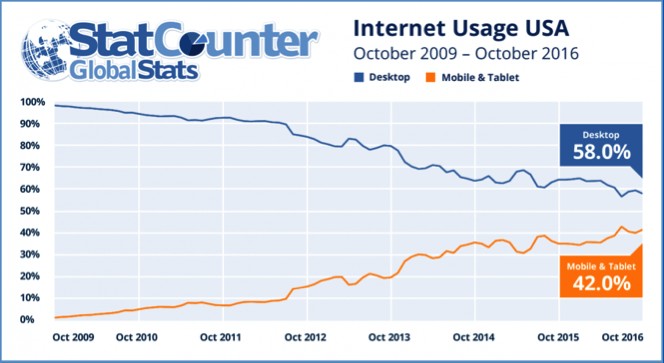 The Implications
There is no denying that the push toward mobile will continue to grow. The report should be a final call-to-arms for all businesses, sole traders, freelancers, and professionals to ensure that their websites and offerings are mobile-ready. (The fact that Google strongly favors mobile-friendly websites should have been enough to push this to the top of everyone's agenda, but now there's this new information.)
Last week, we also learned that one billion people per month now access Facebook on a mobile device and that mobile ads represent 84% of the social network's overall ad revenue. Let's put this into perspective. Facebook generated $5.7 billion in mobile advertising revenue in Q3. Incredibly, that figure is larger than Facebook's entire business in Q3 of 2015. Once Facebook monetizes Facebook Messenger and WhatsApp, we'll see these numbers skyrocket.
This move toward mobile advertising points to a few of the ways companies can take advantage of the mobile trend. It also provides reassurance that investments in mobile technology—particularly apps—are bound to pay off. Most consumers have come to expect that their favorite websites will have a mobile counterpart, and as Facebook has shown, this opens up a world of possibilities in terms of ad revenue and promotion. With mobile counterparts, the ease of sharing content also increases. And the wealth of information on user's phones that becomes available is yet another point in favor of mobile investment.
Investors Beware!
This doesn't mean all is smooth sailing. Users are no less intolerant of ads than they were just a few years ago. The rise in ad blockers signaled an impatience and frustration among consumers that forced advertisers to customize ads through machine learning. It's folly to expect consumers to simply ingest endlessly without ever becoming saturated.
The point is that if you plan to invest in mobile, you must also invest in the technology that shores up happy mobile usage, like machine learning and algorithms that tailor ads to users preferences and determine when and where it's appropriate or inappropriate to place an ad. There is nothing more disenchanting than an intrusive ad. That isn't opinion; it's fact.
To be sure, what investing in mobile means is different for each industry and to some  degree for each company. You must consider your product and consider your users. The product itself demands certain functions be more available than others, and certain users are more tech savvy than others. All this is commonly understood in the world of marketing but seldom translates into user-experience.
It's complex, frankly. There are many factors to consider and one person will not wield all the expertise needed to fully transform a company's mobile program. That is why, beyond any other measure, bringing talent in-house is the best maneuver. There are some companies still reliant on outsourcing but I don't recommend it. In-house talent means in-house innovation, which means in-house collaboration and products that leads to greater efficiency and efficacy.
In Sum
Consumers across the globe have broken free of the shackles of their desktop computers. The smart phone is now the point of convergence for socializing, responding to emails, catching up with news and planning one's day-to-day activities. This represents a shift at the global scale that must be met in turn for business success.
I'm curious to learn, how does this shift affect your business? How are you going to integrate this information into your decision-making?
Please let me know your thoughts on this.
#mobile #technology #marketing