Millions of Americans own a piece of the hottest private technology companies through their mutual funds. But no one knows what those investments are actually worth.
The differences are a sign of growing danger for individual investors as mutual funds scramble to buy shares in new tech companies before they go public. While getting in early gives those mutual funds a shot at a huge profit if a company takes off, which happened with Facebook Inc. FB -1.53 % and LinkedIn Corp. LNKD 0.36 % , many funds struggle just to put a value on their private-company shares.
In the stock market, prices rise and fall every day in response to company announcements, economic news and jostling by droves of investors. Private companies rarely talk in detail or disclose financial information, leaving their investors in the dark and on their own to decide how much a stock is worth.
Varying valuations
An analysis by The Wall Street Journal of closely held technology startups worth at least $1 billion found 12 instances where the same company was valued differently by more than one mutual-fund manager on the same date.
The 12 companies with different prices at different mutual funds included Uber, valued at close to $51 billion in a funding round completed in July, and Dropbox Inc., which was last valued at $10 billion. The share-price gap ranged from a few cents per share to more than twice the stock's price.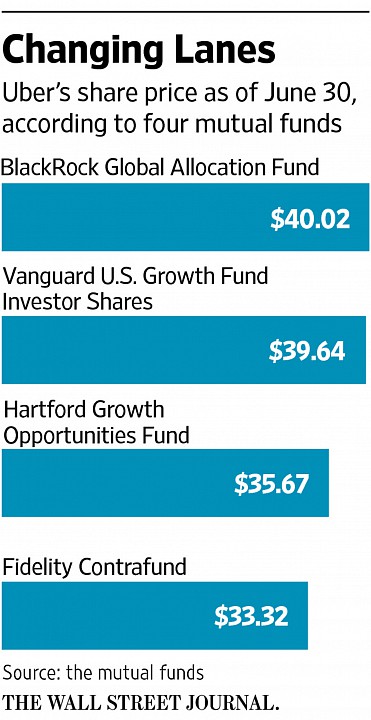 Few mutual-fund firms are willing to discuss their valuation procedures in detail, largely because of competitive concerns, but mutual-fund firms say they follow a rigorous process.
Donna Anderson, who manages global corporate governance for T. Rowe Price Group Inc., TROW 0.34 % says it sometimes feels like "being on a teeter-totter" while the mutual-fund firm is carefully trying to determine the right price.
T. Rowe Price valued the stake held in software startup Cloudera Inc. by the T. Rowe Price Global Technology Fund at $27.83 per share on June 30, 2014. That was roughly twice as high as the valuation by Hartford and Macquarie Group MQBKY -3.53 % Ltd.'s Delaware Investments on the same day.
Big gaps like that suggest "you're kind of getting a guess from the fund company," says Katie Reichart, a senior analyst at Morningstar. Mutual-fund valuations of private companies are "pretty opaque," she adds.
The consequences can be dramatic. In last year's second quarter, T. Rowe Price slashed its valuation of Peixe Urbano from $7.41 a share to three cents after concluding that the Brazilian online discount retailer was likely to be liquidated.
For individual investors, the risks are mushrooming as mutual funds buy more startup stocks than ever. Such stocks are highly appealing to managers whose investment returns have been hurt by abnormally low interest rates and this year's lackluster stock market. Many of those managers also are struggling to compete with lower-cost mutual funds that track a market index.
Five of the biggest fund firms participated in funding rounds worth a combined $6.1 billion at startup companies last year, up from about $1 billion in 2011, according to data from CB Insights. This year's total was $8.3 billion as of Sept. 30.
Mutual-fund firms typically get their shares in private companies when they participate in funding rounds that are open just to a select group of investors.
Regulators require mutual funds to limit their holdings of "illiquid" securities to no more than 15% of a fund's assets. Most mutual funds have no more than a tiny percentage of their portfolio in startup stocks.
Financial adviser Tim Parker...
More