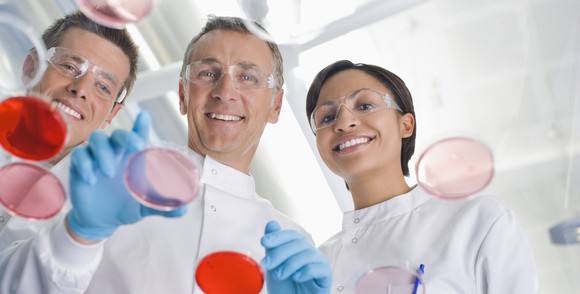 What: After industry analysts at Cantor Fitzgerald began coverage with a buy rating, shares of Arrowhead Pharmaceuticals, Inc. (NASDAQ:ARWR) shot 12.5% higher at 1:30 p.m. EDT today.
So what: Arrowhead Pharmaceuticals is researching drugs that target RNA (ribonucleic acid), a nucleic acid present in all living cells that acts as a DNA messenger. The company's most advanced therapy is ARC-520, which is being studied as a new treatment for hepatitis B.
Recently, Arrowhead Pharmaceuticals reported that combining ARC-520 and Bristol-Myers Squibb's (NYSE:BMY) Baraclude resulted in up to 5.5 log, or 99.99% reductions in serum HBV DNA. Patients with HBeAg-negative mutation -- a tough-to-treat variation -- achieved reductions that put them below the limit of quantification, too.
Those results boost confidence that ARC-520 combination therapy could provide a functional cure for the 350-million-plus people worldwide who are infected with hepatitis B.
Now what: Cantor Fitzgerald analysts...
More