Last week we outlined how the economics of the floating storage play can help determine the future course for oil prices. We said that the main takeaway from SocGen's analysis is that storage availability and contango should be taken into account when thinking about where crude prices may be headed. We followed that up by showing that the US is set to run out of on-land storage capacity in June (a theme everyone is now picking up on): 
Come June, when all available on-land storage is exhausted, each incremental barrel will have to be dumped on the market forcing prices lower and inflicting further pain on the entire US shale complex (just as Q1 results are released which will invariably show huge writedowns as companies will no longer be able to hide behind the SEC-mandated accounting trick that made Q4 results appear respectable).
We also noted that retail investors hoping to play for a rebound have piled into oil ETFs at just about the worst time imaginable, with contango widening the most in 4 years: 
Don't look now, but the sharp slide in crude prices may be leading the proverbial sheep to slaughter. Investors have piled into the market's largest crude ETF over the last several months sending the number of shares outstanding to the highest level since 2009. We suspect many of these "investors" might be unaware that they're currently staring down the most severe decoupling between second- and first- month contracts in four years.
Right on cue, Goldman is out today with a note which discusses all of these issues at length. Their conclusion: "Despite inflows to oil ETFs the trough is yet to come." 
From Goldman: 
We believe that the key force pushing commodity markets higher has been retail investor inflows into oil ETFs. Importantly, these strong inflows have emerged despite weak commodity fundamentals, and with arguably a more bullish outlook for equities than for commodities…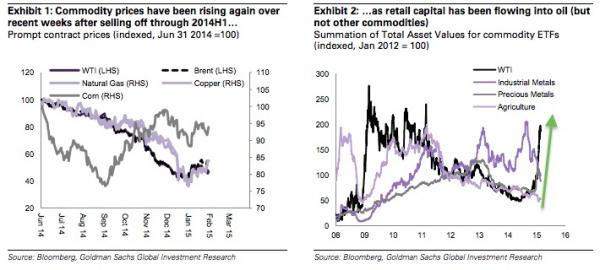 We believe that these inflows are generating selling opportunities in oil and copper precisely because they are at odds with commodity market fundamentals. As we have previously outlined, even with the rapid fall in the US rig count over recent weeks, rising rig productivity, the backlog of wells and the possibility of high-grading in the near future, means that US production growth has not yet slowed enough to balance the oil market. The record US oil inventory builds seen over the last few weeks support this view, with US Gulf Cost (PADD 3) stocks now at 220 mil bbl, the highest level on record. Furthermore, we expect inventory builds to both continue over 2015H1 and to spread globally (OECD ex. US inventories have been drawing recently), as China's oil import demand remains weak…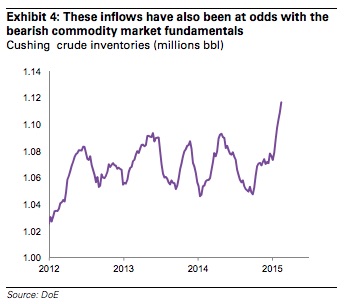 ...and on home gamers' "misunderstanding" of how the world actually works...
Apart from the obvious disconnect between recent price trends and physical fundamentals, the rationale of going long oil on an expected normalization or "mean reversion" also suffers from an incomplete view of how commodity returns are generated. Commodity returns incorporate both price returns and roll yields. And with roll yields currently around –9% for oil (–2.4% for the overall S&P GSCI), any upside to price returns is being significantly eroded by losses on roll yields. We expect this situation to continue for at least the next 6 months, with the roll yield on the S&P GSCI continuing to weigh on total returns. 
...and a bit on storage capacity...
Given the physical nature of commodities, these near-term supply-demand misalignments lead to a build in inventories. While the capacity to store these new stocks exists, spot and near-dated futures prices will decline, but the sell-off remains orderly. However, if storage approaches capacity limits, the market must adjust by incentivizing an even more rapid rise in consumption through more forceful price declines. In both cases futures curves are pushed into contango, generating negative roll yields over the sell-off period. Importantly, falling spot prices, negative roll yields and rising inventories are all symptoms of the same fundamental market weaknesses.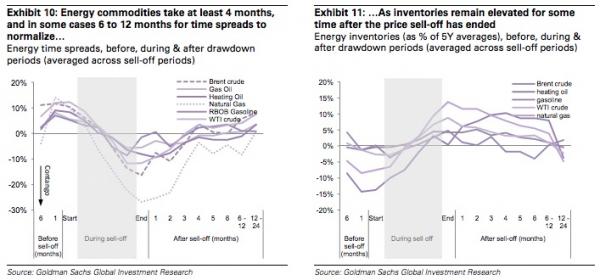 *  *  *
There you have it. Short term rebounds in crude prices are likely driven by misguided retail inflows into oil ETFs and aren't to be trusted because fundamentals (trivial things like production and storage capacity) point to further weakness going forward. 
We'll leave the last word for the IEA which, in their monthly oil report (out today), had the following to say about prices:
On the face of it, the oil price appears to be stabilising.  What a precarious balance it is, however.




Behind the façade of stability, the rebalancing triggered by the price collapse has yet to run its course, and it might be overly optimistic to expect it to proceed smoothly.