Priceline's shares will reach $1400 by 11.12.2015

13 october 2015
We are upbeat about shares of Priceline (PCLN), a major US online travel agency. The company delivers double-digit growth. According to the financial report for 2Q15, revenue rose 7% y-o-y to USD 2.28 bnon the back of a strong start to the holiday season in the US and other countries. Gross bookings of hotels, flights and car rentals through the company's websites soared 10.5% y-o-y (26% taking into account devaluation effects) to USD 15 bn, while international bookings increased 12% y-o-y, which accounts for 87% of total bookings. Operating profit fell 1.3% y-o-y to USD 781 mn. Adjusted EPS decreased 0.5% y-o-y to USD 12.5. The company generates significant cash flows, allowing it to buy back shares. The company spent USD 986 mn on buyback over the first six months of the year.
Priceline continues to close M&A deals. The company recently acquired AS Digital, a leading provider of restaurant table and reservation management solutions. The deal will expand Priceline's online booking capabilities.
We are upbeat about the company's future prospects. In our opinion, the global travel industry will continue to recover as the global economy improves, and Priceline has every chance to become a major beneficiary of this trend. The company's advantage is high diversification and a global business approach (most revenue is generated on foreign markets). Priceline pays special attention to emerging markets in Asia and Latin America, which hold great upside potential in terms of the development of online travel booking. We are also upbeat about Priceline's recent acquisitions, which should increase the company's capitalization in the mid-term.
We left our target price for the name unchanged at USD 1,480 and reiterate a Buy recommendation in the mid-term. The short-term technical target is USD 1,400.
<!== INSTRUMENT %% %1440% ==!>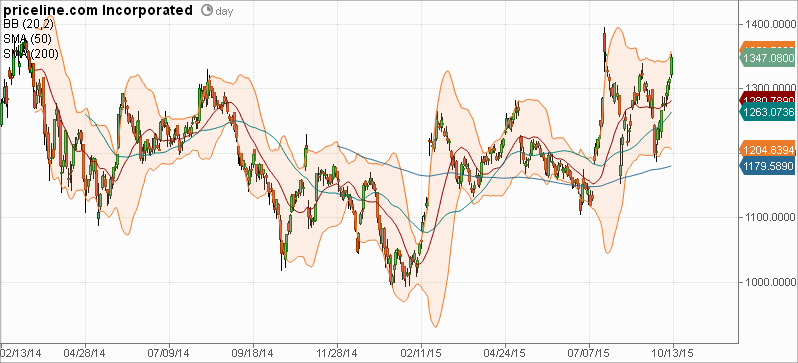 Voting is over
Waiting for


the right answer