Invest with Confidence. Are you a financial professional? Stay on top of your portfolio with Benzinga Pro's real-time newsfeed and alerts and never miss a headline again.
Don't miss the chance to try it FREE today.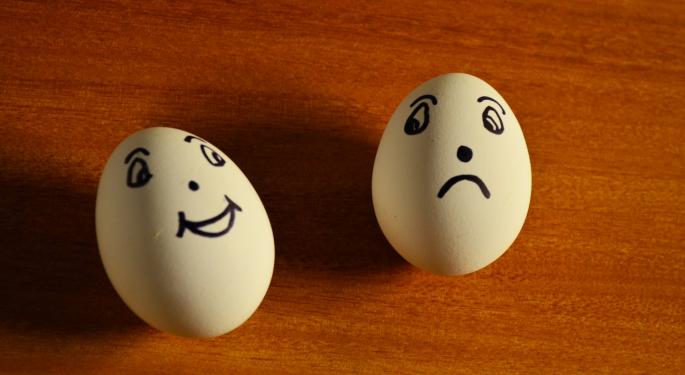 Facebook Inc FB 9.44% and Twitter Inc TWTR 0.87% will forever be linked in people's minds as the two biggest names in the social media revolution of the past decade. There's no question that each company has made a major impact on how the world communicates, and each has been a pioneer in creating a brand new type of service that is now an integral part of billions of people's daily lives.
Twitter was launched in 2006. In less than 10 years it has accumulated more than a billion registered users and now generates more than $2.2 billion in annual revenue. There's no doubt about it-- Twitter has been a massive success in every possible way imaginable except for one: as a public stock.
Related Link: Twitter's Macro Commentary Is The Real Worry (Especially After Yahoo's Comments)
In the past year, market concerns over slowing growth and the lack of a clear path forward have gone from bad to worse, and Twitter's stock has been punished. As if things weren't bad enough for Twitter investors, the booming success of social media cousin Facebook makes the contrast between the two stocks even more stark. The chart below shows the one-year performance of Facebook versus Twitter, now including Facebook's Q1 post-earnings spike and Twitter's post-earnings tumble.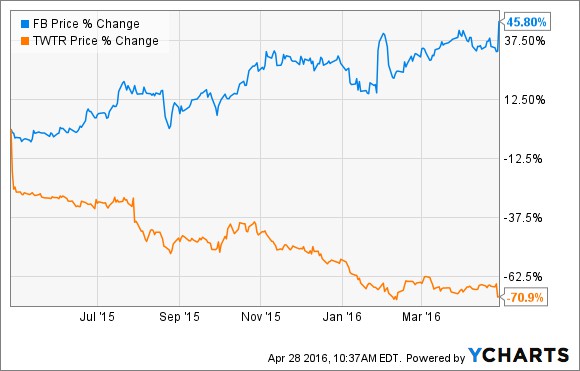 Facebook is up more than 45 percent in the past year, while Twitter is down more than 70 percent.
Disclosure: the author holds no position in the stocks mentioned.
© 2016 Benzinga.com. Benzinga does not provide investment advice. All rights reserved.