Investors looking for growth stocks sometimes discount, or don't even consider, well-established industry heavyweights. This tactic, however, can be a mistake.
Just because the home run growth play is to get in on the ground floor of the next Netflix NFLX or Amazon AMZN doesn't mean that this goal is very reasonable or likely. If investors take a small step back, they can often find growth in the form of companies with strong track records and massive market caps, which are also poised to get bigger.
With that said, growth-minded investors might look no further than Visa V.
Visa is coming off a strong fourth-quarter earnings report last week. The credit card giant's Q4 profits popped 11% to $2.14 billion, while revenues jumped 14% to $4.86 billion. The company also saw its payment volume rise almost 10%.
On top of that, Visa's full-year revenues soared 22% to hit $18.36 billion. The company's full-year profits also experienced year-over-year gains.
Moving forward, Visa expects to keep growing, spurred in part by its 2016 acquisition of Visa Europe—which was previously a completely separate entity. What's more, the credit card company is now the official credit card provider for Costco COST and USAA, one of the bigger issuers of debit and credit cards in the U.S.
Visa is also set to benefit from the fintech revolution through its recently renewed partnership with PayPal PYPL, along with wearable contactless payment technologies such as Fitbit's FIT new Ionic smartwatch—as well as experiments with outside the box payment-enabled sunglasses.
With a little bit of background as to how the company has performed recently and how Visa has positioned itself going forward, let's dive into what makes the credit powerhouse a potentially attractive growth stock right now.
Fundamentals
The company's stellar run has helped its shares gain nearly 41% this year, which nearly doubles the "Financial Transaction Services" industry's average and crushes the S&P 500's 12.42% climb. Visa stock touched a new 52-week intraday trading high on Wednesday.
This movement and new high shouldn't scare off investors who might be worried that Visa will have a hard time bursting into a new range, as its growth prospects are still strong.
Visa is currently a Zacks Rank #2 (Buy) and sports a "B" grade for Growth in our Style Scores system.
According to our current Zacks Consensus Estimates, Visa's revenues are projected to gain 7.60% to hit $4.80 billion in the first quarter of its fiscal 2018. Along with sales growth, Visa's earnings are expected to jump nearly 13%.
For Visa's upcoming full-year, company revenues are projected to climb over 9% to touch as high as $20.23 billion. In terms of earnings growth, Visa is set to see its 2018 EPS soar 16.35% to $4.05.
Visa Inc. Price, Consensus and EPS Surprise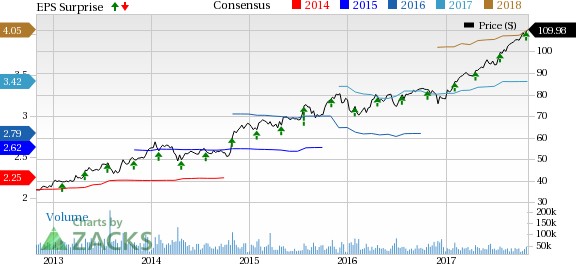 Visa Inc. Price, Consensus and EPS Surprise | Visa Inc. Quote
Investors should feel relatively confident that Visa will match or beat these new growth projections based on recent analyst upgrades and its strong track record.
Within the last 60 days, Visa has received 12 upward earnings estimate revisions for its upcoming full-year, against no downward changes. What's more, Visa has topped earnings estimates for over four years running.
More Stock News: This Is Bigger than the iPhone!
It could become the mother of all technological revolutions. Apple sold a mere 1 billion iPhones in 10 years but a new breakthrough is expected to generate more than 27 billion devices in just 3 years, creating a $1.7 trillion market.
Zacks has just released a Special Report that spotlights this fast-emerging phenomenon and 6 tickers for taking advantage of it. If you don't buy now, you may kick yourself in 2020. Click here for the 6 trades >>
Want the latest recommendations from Zacks Investment Research? Today, you can download 7 Best Stocks for the Next 30 Days.
Click to get this free report
Visa Inc. (V): Free Stock Analysis Report
Amazon.com, Inc. (AMZN): Free Stock Analysis Report
Netflix, Inc. (NFLX): Free Stock Analysis Report
PayPal Holdings, Inc. (PYPL): Free Stock Analysis Report
Fitbit, Inc. (FIT): Free Stock Analysis Report
Costco Wholesale Corporation (COST): Free Stock Analysis Report
To read this article on Zacks.com click here.
Zacks Investment Research