Summary
Boeing's record backlog, worth more than five times last year's sales, looks increasingly fragile given the slowdown in China and the rest of the world.
The backlog's high mix of replacement demand and geographic diversification, coupled with plunging jet fuel prices boosting airline customer profitability, reduce some of these concerns.
The large commercial aircraft industry has extremely high barriers to entry, requiring decades of time and tens of billions of dollars.
We think the pros outweigh the cons, positioning Boeing very well for long-term dividend growth beyond the 25% raise dividend investors enjoyed earlier this year.
Dividend growth investors should take a close look at Boeing, which has one of the safest and highest-growth potential dividend payments.
Building a large commercial jet is an unbelievable undertaking. While jet orders ebb and flow with the health of the global economy, we believe the long-term demand trajectory is up and to the right, and the jet industry's competitive dynamics will ensure Boeing (NYSE:BA) remains a key player in the market for decades to come. Despite growing fears over the safety of BA's backlog in light of heightened global economic uncertainty, BA is a strong company for consideration in our Top 20 Dividend Stocks list.
Business Overview
BA is the world's largest aerospace company and leading manufacturer of commercial airplanes and defense, space and security systems. The single biggest exporter and the only large commercial jet manufacturer in the United States, BA supports airlines and U.S. and allied government customers in more than 150 countries (non-US customers = 58% of BA's revenue). Commercial planes accounted for 66% of sales last year and recorded a 10.7% margin. Defense, Space & Security generated the remaining 34% of sales and reported a 10.1% operating margin.
Business Analysis
The large commercial aircraft market (planes with at least 150 seats) is a duopoly, with BA and Airbus each capturing close to 50% of orders (Airbus delivered 629 jets in 2014 compared to BA's 723). We believe it would take decades for a third meaningful player to emerge given the nature of the large aircraft market. The barriers to entry are just too high.
First, the cost to develop, build, and deliver a new large commercial airplane is tremendous. The Boeing 777 and the Airbus A380 each had development costs in excess of $10 billion, and designing an aircraft generally takes eight to 10 years for a new model and around five years for a variant of an existing model. Development plans are notorious for going over budget and experiencing delays. For example, BA's 777 was originally budgeted at only $2 billion but ended up costing five times that amount, and Airbus' A380 went about 40% over its initial budget. Most recently, the 787-8, Boeing's newest model, was delivered in September 2011, following a more than three-year delay. Given the long time horizon and risk of production delays, financing these massive projects is very difficult.
Due to the high costs and lengthy timeframe required to produce a new aircraft model, it's not surprising that BA has only designed eight planes from scratch since it started building jets in 1955, and Airbus has only designed four since 1969. New entrants to the market need billions of dollars and potentially decades of time to create a competitive aircraft model.
Many investors don't realize the level of capital spending and subsidies Airbus and BA required over multiple decades to become the companies they are today. Airbus received around $25 billion in subsidies from three European national governments in its first 20 years of operation to keep it afloat and give it a chance at competing against BA and McDonnell-Douglas (later acquired by BA in 1997). BA lost money over its first twenty years of operations and was only able to strengthen itself as a leader in aerospace because of the high volume of production during World War II (BA was able to develop its first commercial jet airliner because of the technology and knowhow it had developed in the construction of military jets). BA and Airbus also benefit from their massive size today by purchasing materials in bulk on favorable terms. China recently launched a company that plans to build large commercial aircraft and presumably has the financial firepower to subsidize it, but it will likely take many years, if not decades, for it to be competitive and gain trust in the marketplace.
With such massive investment required to commercialize a new airplane and generally hundreds of orders needed to achieve profitability, national and regional markets are too small for a company to turn a profit. In other words, a new entrant would need to be able to take its business globally from day one to be financially viable, creating another barrier to entry.
Money and time aren't the only challenges of entering the large commercial aircraft market. Figuring out how to design a large aircraft and managing the entire production process might be the biggest challenge. Airplanes generally travel hundreds or even thousands of miles per day year-round and need to last at least 25 years without failing. Proper engineering is of utmost importance. We will not pretend to have a clue as to how a properly functioning airplane is created, but we do know that it takes about one year to produce a big plane, and each plane contains hundreds of thousands of parts. Each component needs to be designed, manufactured, and brought together into one plane, introducing an extremely complex supply chain and production process to be managed. BA's manufacturing space alone exceeds 80 million square feet. With many contracts containing fixed prices, a single slipup or delay can cost hundreds of millions of dollars.
Switching costs also play a role in protecting Airbus and BA from new entrants. Flying two different types of planes adds operating costs to an airline, so low-cost carriers often prefer to stick with a single type of plane. Trust is another big factor given the need for airplanes to maintain their functionality for more than 20 years. BA has a proven track record going back more than 50 years and has built a global distribution network that ensures spare parts are always available for delivery.
Finally, government regulations add another layer of complexity to the market. In the US, commercial aircraft products must comply with Federal Aviation Administration regulations governing production and quality systems, airworthiness and installation approvals, and more. Internationally, similar requirements exist for airworthiness, installation and operational approvals. Since most of the industry's products are exported around the world, manufacturers most comply with these regulations on a global basis. Naturally, government contracts in BA's defense business are heavily regulated as well.
From a growth perspective, we believe the industry's long-term prospects are very positive but will see occasional bouts of volatility. Essentially, increased trade, globalization, and air traffic rights between countries will continue improving the wealth of developing countries, which are generally under flown today. With passenger air traffic growing 5-6% in recent years, we believe commercial aircraft demand should roughly track that pace of growth over longer periods of time. Over the next 20 years, factoring in new and replacement airplane demand, the total market value could exceed $5 trillion for more than 35,000 new planes. Strong airline industry profitability, driven by the drop in jet fuel prices, also provides a nice buffer of cash for BA's main customers, further fueling backlog stability and growth.
While demand has seen a significant boost from developing markets, we believe the US could provide the next wave of backlog growth for BA. BA believes 40-50% of airplane demand over the next 20 years will come from replacement needs. Most commercial airplanes last around 20 years. Airfleets.net is an online database that shows the fleet ages of some of the largest airlines. Its data reveals that US airlines have the oldest fleets - Delta Airlines 17.2 years; United Airlines 13.6 years; Southwest 12 years; American Airlines 11.7 years; Lufthansa 11.2 years; British Airways 12.8 years; Air France 11.4 years; and Singapore Airlines 7.7 years. With global airlines recording profits of about $20 billion in 2014 (up from $13 billion in 2013, $6 billion in 2012, and $7.5 billion in 2011) and expected to profit $25 billion in 2015, fleet replacement should remain very strong and well-funded over the coming years.
Key Risks
Like many large capital goods, demand for commercial airplanes is cyclical. The following chart shows how aircraft orders and deliveries trended over the past 50 years, with shaded areas indicating a recession period. Following each recession until the financial crisis, BA and Airbus significantly reduced production, waiting for order books to refill.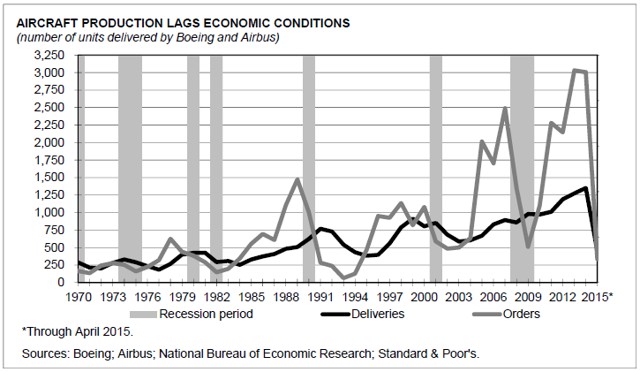 Source: Boeing, Airbus, National Bureau of Economic Research, Standard & Poor's
You can also see the strength of this current cycle. Aircraft deliveries were basically unaffected during the financial crisis despite orders falling over 60% in 2009. Orders quickly rebounded in 2010, more than doubling compared to 2009, and doubled again in 2011. The rising demand is being driven by increased demand for travel in emerging markets.
With backlog at a record high (nearly $500 billion, more than 5x BA's total sales last year and 8x production), many investors are excited about BA's future. However, there is risk that the industry heads towards overcapacity, ramping up production rates to fulfill their growing backlogs just as airlines in emerging markets create too much supply or experience economic weakness. Oversupply results in lower prices and profit, resulting in canceled aircraft orders. As a result, BA and Airbus will have too much supply and will lower prices. We view this as a low probability, high severity risk, but it's something to monitor considering the current global volatility. One mitigating factor is that replacement demand is a large element of backlog orders and incremental demand compared to private cycles; BA estimates that 40-50% of demand over the next 20 years is coming from replacement, which should be more predictable.
Defense markets present another risk and have been challenging for the last few years and still account for a meaningful percentage of BA's business. International defense markets are healthier and account for about 35% of BA's defense backlog. Over the near-term to midterm, BA expects defense revenues to be about flat, with growth in services and international businesses helping offset Department of Defense weakness. Defense sales fell 2.5% last quarter, nothing to be alarmed by.
Assuming BA's backlog remains firm, execution is really the biggest challenge going forward. As previously mentioned, supply chains are very complex and delivery delays are somewhat common. When delays occur, earnings are typically materially disrupted. BA will attempt to increase its production five times over the coming years to build out its backlog and create capacity for new orders. BA produced 42 737 aircraft per month in early 2015 compared to 38 per month in 2013. The company plans to increase the rate to 52 per month in 2018, representing a 33% increase since 2010. The 787 will rise to 12 per month in 2016 and to 14 per month by the end of the decade. Should backlog hold and the company successfully execute, earnings will grow substantially given the amount of operating leverage in BA's business model.
Despite the backlog and good revenue growth, BA's profit is expected to decline slightly in 2015 due to higher costs associated with the KC-46 program and continued profitability struggles with the 787 program. We view both issues as ultimately transitory items that have no real bearing on the long-term thesis. However, they highlight some of the biggest challenges of operating in this industry.
Dividend Analysis
We analyze 25+ years of dividend data and 10+ years of fundamental data to understand the safety and growth prospects of a dividend. BA's long-term dividend and fundamental data charts can all be seen here and support the following analysis.
Dividend Safety Score
Our Safety Score answers the question, "Is the current dividend payment safe?" We look at factors such as current and historical EPS and FCF payout ratios, debt levels, free cash flow generation, industry cyclicality, ROIC trends, and more. Scores of 50 are average, 75 or higher is very good, and 25 or lower is considered weak.
BA scored a Safety Score of 84, a really strong ranking that suggests BA's dividend is safer than 84% of all other dividend stocks. The company's moderate payout ratios, very healthy balance sheet, and wide moat support the favorable ranking.
Over the trailing twelve months, BA's dividend has consumed 47% of its GAAP earnings and 37% of its free cash flow. BA is a cyclical business, but its payout ratios provide plenty of cushion in case the aerospace cycle surprises to the downside.
Looking at longer-term trends in payout ratios can be even more helpful. Our dividend tools let you view a stock's EPS and free cash flow payout ratios over the last decade. As seen below, BA's payout ratios have remained at healthy levels for most of its history. However, during the financial crisis, BA's payout ratios spiked to dangerous levels as the company's operating leverage worked against it. During this time, BA did not grow its dividend given the uncertainty.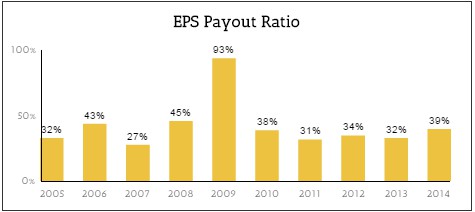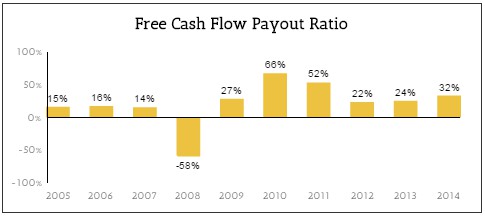 For dividend companies with enough operating history, it's always a prudent exercise to observe how their businesses performed during the financial crisis. Our Stock Analyzer tool lets us see how a company performed during the financial crisis in one click. BA's reported sales were down just 8% in fiscal year 2008, but its earnings and free cash flow plummeted. With fewer airplane deliveries, BA had less revenue to spread its fixed manufacturing costs over.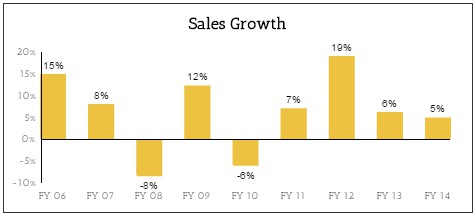 High quality companies are able to generate cash flow year in and year out. Rising cash flow is very important because it supports continued dividend growth without expanding the payout ratio. Aside from 2008, BA's business has been a solid cash flow generator despite the capital-intensive nature of manufacturing large commercial aircraft:
While payout ratios, margins, industry cyclicality, free cash flow generation, and business performance during the recession help give us a better sense of a dividend's safety, the balance sheet is an extremely important indicator as well.
As seen below, BA's long-term debt to capital ratio has improved almost every year since the financial crisis, sitting at a reasonable 48% today. Given the cyclical nature of BA's industry, we would like to see this ratio remain below 50%.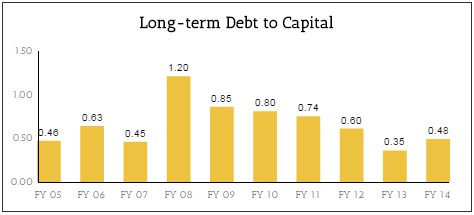 Looking more closely at BA's balance sheet, we can see that the company is in a very healthy position. BA has more cash on hand ($9.6 billion) than debt ($9 billion), and its free cash flow generation ($6.7 billion last year) provides plenty of capital allocation flexibility.

Altogether, BA's dividend is very safe regardless of how the commercial aircraft cycle plays out. The company's sub-50% payout ratios provide a nice cushion, the balance sheet is very flexible, the market should remain a duopoly for years to come, and cash generation should be great assuming the backlog holds.
Dividend Growth Score
Our Growth Score answers the question, "How fast is the dividend likely to grow?" It considers many of the same fundamental factors as the Safety Score but places more weight on growth-centric metrics like sales and earnings growth and payout ratios. Scores of 50 are average, 75 or higher is very good, and 25 or lower is considered weak.
BA's Growth Score is 89, meaning its dividend's growth potential ranks higher than 89% of all other dividend stocks we monitor. The company's sub-50% payout ratios, strong balance sheet, and record backlog support a very positive outlook for continued dividend growth.
BA held its dividend flat during the financial crisis, resetting its dividend growth streak to less than five years. Most recently, BA raised its dividend by about 25% earlier this year and appears to have strong potential for double-digit increases going forward, assuming the backlog holds and execution is decent. For those looking for companies with a longer dividend growth streak, you can see a list of dividend aristocrats here, updated daily.
Valuation
BA trades at 16x forward earnings. However, earnings have potential to increase substantially in coming years as BA ramps up production rates and executes on its massive backlog. If everything goes as planned, we believe BA's earnings could grow by more than 50% over the next five years, throwing off tremendous free cash flow to continue growing the dividend.
The stock's dividend yield is 2.8%, good for a Yield Score of 51. This means that BA's dividend yield is higher than 51% of all other dividend-paying stocks, falling right in the middle of the pack. Given the company's competitive advantages and opportunity for significant profit growth in coming years, we believe the stock trades at a reasonable price for long-term dividend growth investors.
Conclusion
BA's market share is protected by extremely high barriers to entry. The company's long-term contracts, healthy backlog, and strong replacement and servicing business help reduce business volatility while providing meaningful opportunity for profit growth over the next five years. While aircraft orders are cyclical, we believe BA's current valuation looks reasonable for long-term dividend growth investors.
Editor's Note: This article discusses one or more securities that do not trade on a major U.S. exchange. Please be aware of the risks associated with these stocks.
More