Chicago Bridge & Iron Company N.V. CBI recently announced the completion of the divesture of its Capital Services business which was announced in February. The buyer, an affiliate of private equity firm Veritas Capital, has settled for an amended price of $700 million, lower than the initial offer of $755 million.
Cut in the Sale Price
The lower than bargained price for the deal is likely to upset a sizable number of investors. Working capital adjustments and transaction costs will further lower the net proceeds to $650 million. Also, the downward revision of the sales price will cause the company to incur an additional non-cash pre-tax charge of roughly $50 million in the second quarter of 2017.
Despite the drop in the selling price, Chicago Bridge and Iron is upbeat that this divesture will help it slash leverage, lower interest costs and realize cost synergies. The sale is part of the company's efforts to realign its business with its long-term strategy, which has been designed to generate significant cash proceeds and reduce outstanding debt.
Chicago Bridge & Iron has been grabbing headlines since the past week, following the favorable decision by Delaware Supreme Court in relation to a $2-billion lawsuit connected to Westinghouse acquisition.
Headwinds Galore
Despite the few positive developments in recent times, the engineering, procurement and construction behemoth continues to grapple with a host of issues. Over the past six months, Chicago Bridge & Iron's shares have lost 41.3%, way wider than the average loss of 7.1% of the Zacks classified Building-Heavy Construction industry.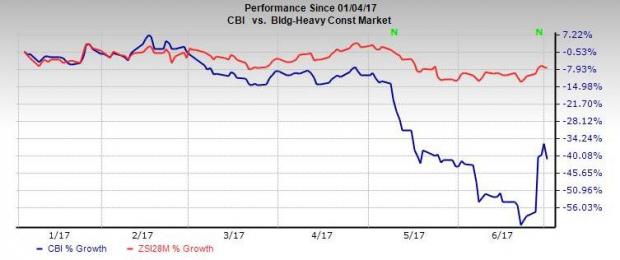 Like most other companies operating in the energy domain (particularly oil and gas sector), volatility in commodity pricing continues to be a major drag for Chicago Bridge & Iron. Over the past few quarters, the company has been witnessing a precipitous decline in capital investments, severely marring its financials. Concurrent with its first-quarter 2017 results, the company has revised its guidance downward from $4.00–$4.60 per share to $3.50–$4.00, signaling dimmer prospects.
The company's Zacks Consensus Estimate for full-year 2017 earnings continues to decline, reflecting bearish analyst sentiments. Chicago Bridge & Iron has seen six downward estimate revisions compared with none upward over the past couple of months. This has led the Zacks Consensus Estimate for 2017 to move down from $4.15 to $3.33, underlining a decline of 17.8%.
Taking into consideration the lackluster guidance, downward estimate revisions and reduced federal investments, we believe the Zacks Rank #5 (Strong Sell) company will continue to lose ground, at least in the near term.
Stocks to Consider
Some better-ranked stocks in the broader sector include TopBuild Corp. BLD, Thor Industries, Inc. THO and NVR, Inc. NVR. While TopBuild sports a Zacks Rank #1(Strong Buy), Thor Industries and NVR carry a Zacks Rank #2 (Buy). You can see the complete list of today's Zacks #1 Rank (Strong Buy) stocks here.
TopBuild has a positive average earnings surprise of 6% for the last four quarters, having beaten estimates thrice.
With three beats over the trailing four quarters, Thor Industries has an average positive surprise of 11.6%.
NVR has an average positive surprise of 3.7%, having beaten estimates twice over the trailing four quarters.
5 Trades Could Profit ""Big-League"" from Trump Policies
If the stocks above spark your interest, wait until you look into companies primed to make substantial gains from Washington's changing course.
Today Zacks reveals 5 tickers that could benefit from new trends like streamlined drug approvals, tariffs, lower taxes, higher interest rates, and spending surges in defense and infrastructure. See these buy recommendations now >>
Want the latest recommendations from Zacks Investment Research? Today, you can download 7 Best Stocks for the Next 30 Days.
Click to get this free report
TopBuild Corp. (BLD): Free Stock Analysis Report
Chicago Bridge & Iron Company N.V. (CBI): Free Stock Analysis Report
Thor Industries, Inc. (THO): Free Stock Analysis Report
NVR, Inc. (NVR): Free Stock Analysis Report
To read this article on Zacks.com click here.