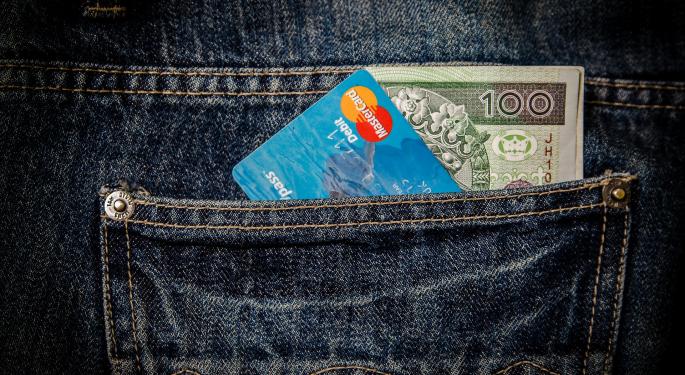 American Express Company AXP 0.53% got the ball rolling on October 19 for credit card issuers' reporting season with a forecast-beating performance.
The company also raised its bottom line forecasts for the year, sending shares up by over 9 percent in the next session. However, analysts took the results with a pinch of salt and instead expressed uneasiness over its lowest quarterly revenues in over five years due to the loss of Costco Wholesale Corporation NASDAQCOST.
Are the good tidings from AmEx a pointer towards the health of the rest of the credit card companies?
When They Report?
What Do Analysts Expect
Mastercard's earnings per share are likely to have increased 6.6 percent to $0.97, with revenues estimated to be up 8.5 percent at $2.75 billion.
Meanwhile, Capital One Financial's bottomline is expected at $1.95 per share, down 1.51 percent from $1.95 per share. This is despite revenues estimated to have risen 8.8 percent to $6.42 billion.
Analysts, on average, expect Discover Financial to post 7.2 percent EPS growth to $1.48 but a slower revenue growth of 3.8 percent to $2.24 billion.
© 2016 Benzinga.com. Benzinga does not provide investment advice. All rights reserved.