For all the talk about rate hikes, the bond market seems to be completely oblivious to any threats of an imminent start of tightening by the Fed, and in the just concluded 2 Year auction, the Treasury moments ago sold $26 billion in 2 Year paper at a high yield of 0.598%, pricing through the When Issued of 0.601% and tight of last month's 0.603%. While the yield dipped following the recent relapse of the US economy into a growth rate just above contraction, the Bid to Cover rose from 3.45% to 3.46%, perhaps driven by a jump in Direct take down, which allotted Direct dealers 18.3% of the final paper, Indirects holding 45.7% and Dealers left with just 36% of the auction, the lowest Direct takedown since October 2012.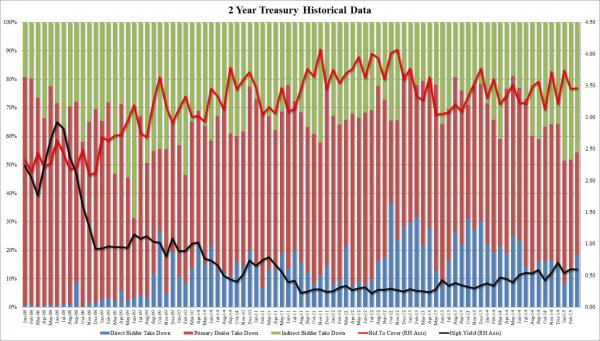 Overall, a surprisingly solid auction, and the short-covering in the short-end after the announcement merely confirmed that the market was once again positioned incorrectly, and hoping for another weak bond auction which just refuses to come.
Yields are being squeezed lower post-auction...