The Bank of England will conclude this month's monetary policy meeting during the 9/10 session. In 2014 so far, the BoE has turned from slightly hawkish to slightly dovish, but no rate cut is expected, just a prolonged period at its current accommodative levels. 

The GBP/USD has flattened after pushing to a high on the year at 1.5930. Recently, it slide to about 1.5160, a support pivot from May/June as we can see in the daily chart.

GBP/USD Daily Chart 9/9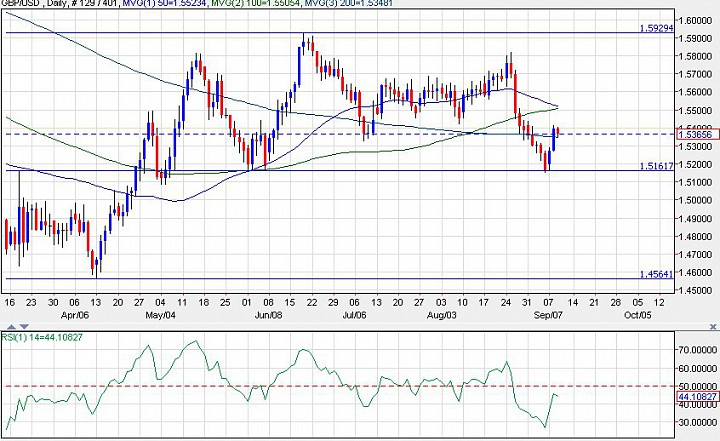 (Click to enlarge) 

If we look at the range between 1.5160 to 1.5930, the middle of the range is around 1.5550. So, the current bounce has upside to 1.5550 as a conservative target, and the 1.58-1.5930 area as a more aggressive target within the context of a sideways market.  

Now, if price fails to climb above 1.5550, and instead holds below 1.55 for the most part, GBP/USD might be turning bearish and the 1.5160 support might become vulnerable. We will probably get more clues for cable after tomorrow's (9/10) BoE statement.

GBP/USD 1H Chart 9/9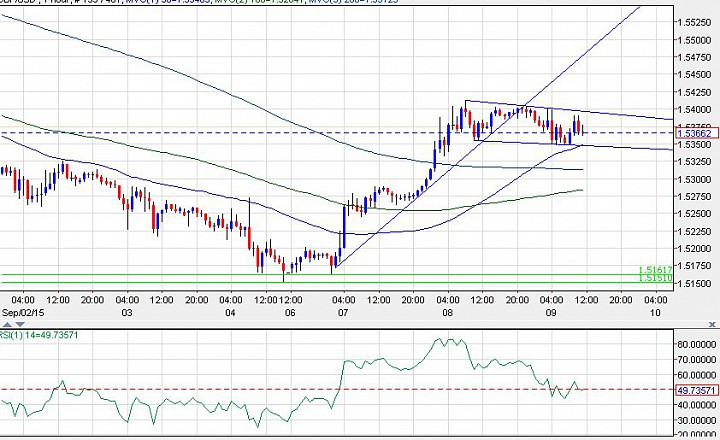 (click to enlarge)
The bounce off of 1.5160 this week is now stalling mostly below 1.54. The 1H chart shows price action flattening, and forming either a price top of a flag pattern awaiting a bullish breakout. Let's see what happens after the BoE statement IF price holds above 1.53, or even 1.5275 after the event risk we should look for further upside towards 1.55-1.5550 in the short-term. Otherwise, a break below 1.5275 could bring cable to test the 1.5150-1.5160 lows again. 

i only have one play here, and that is a very short-term buy towards 1.55. But the expected increase in volatility around the BoE statement is unattractive. If price slides to 1.53 ahead of the BoE statement and stalls, I might consider buying with a 1/3 position. Then, if the bullish outlook is still valid afterwards, I would look to add the other 2/3 after cable shows a clear support at or above 1.53. 

The ability to break above 1.54 at this point would be an early bulilsh continuation breakout signal.