Earlier today, Starboard Value issued a letter to the Depomed's management. You can find this letter here. Quite an interesting reading on Friday morning. I re-read this letter twice and I have a firm feeling that Starboard's management regrets that this deal with Horizon Pharma wasn't executed. Right from this letter:
"Rather than engage with Horizon in an attempt to negotiate a value-maximizing transaction, on July 12, 2015, the Board adopted bylaw amendments, as well as a 10% poison pill rights plan (the "Poison Pill"), designed to make it as difficult and time-consuming as possible for shareholders to potentially have a say on Horizon's offer at a special meeting". 
Starboard is one of the biggest shareholders of Depomed with around 9.8% shares acquired. I have no doubts that the main reason of that was not a certain understanding of the business and its opportunities, but the chance to get a higher return from biotech market on this acquisition. Right now Starboard is trying to influence on Depomed's management so that they shouldn't miss one more opportunity to sell the company. 
Starboard has some experience in forcing board changes - Darden Restaurants in 2014 and Yahoo right now. Their management change in Darden Restaurants resulted in 30% stock growth over the last two years. I think that this success swells Starboard's management and they think they can do it two more times and increase the stock price. Here is the huge problem. I am pretty sure, that current Yahoo board understands the business and its needs better than anybody. Depomed's products and situation is a lot more complicated - biotech market couldn't be manipulate that easy. 
Just to take a quick look at the overall situation. Depomed received an acquisition offer from Horizon in June last year, then Horizon withdrew this offer because of a "Poison Pill" (a strategy to discourage takeovers), then Starboard acquires 9.8% of the company in pushes the management and BoD to sell the Depomed. This is the worst case for the company that could ever happen. 
If we check the company's most recent investor's deck, we can see that their portfolio is growing, acquired drugs have a really good performance. The company has a high chances to boost their sales this year.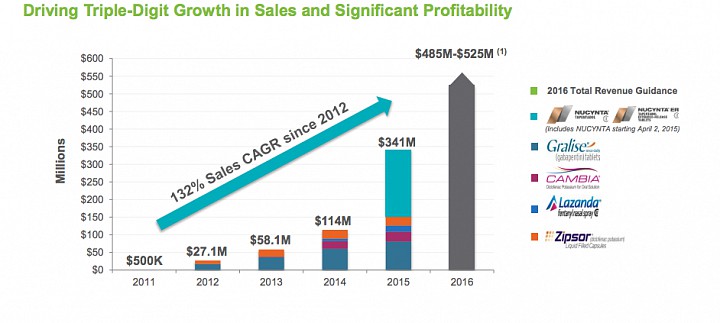 The company tripled their sales in 2015, they increased their cash flow from operating activities from negative $55M in 2014 to positive $144M in 2015. Depomed has more than $550M in notes though, but they don't need to payout their debts tomorrow, so there is no risk of liquidity problems at the moment (at least till 2020-2021). 
I recommend you to be really careful with this stock right now, because if Starboard succeed in removing the BoD - that could be the worst case. New BoD could be aimed to sell the business in any case. Right now I see that the company is steadily developing and want them to keep this pace. 
UPD. The Depomed's reaction on this letter was very mild and confident: Depomed welcomes open communications with its shareholders and values constructive input toward the goal of enhancing shareholder value. Depomed notes that Starboard has not communicated with the Company prior to filing the 13D and has not attempted to hold any discussions with the Company. Depomed's Board and management are committed to creating value for allDepomed shareholders.