Back in September, when we summarized the sentiment behind the "Long-dollar trade in one chart" we used the following representation of the euphoria that had built up behind the greenback.
Then, four months later, when updating the biggest consensus trades as we entered 2015, we showed the following image to indicate the current status of the long-USD trade.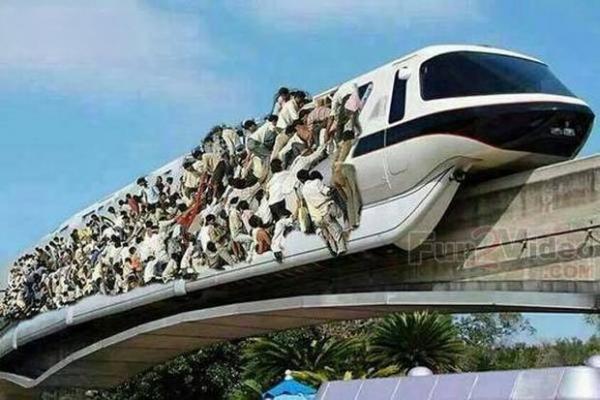 At this point we have run out of vivid images of trains overflowing with people on them. 
So instead we will leave it up to a less picturesque, but just as accurate, SocGen to show why, once again, Long dollar, is "already the biggest consensus ever."
Hedge fund positions, either long or short, tend to provide valuable insight on financial market trends. We track their behaviour in terms of asset classes, performance and favourite strategies.

 

Long dollar, especially versus the euro. Long dollar / short euro positions have reached unprecedented levels, beating the June 2012 record. There is some reason to feel at least slightly ill at ease by the extreme levels that have now been reached (almost three standard deviations away from historical net positions, see chart below). Given diverging monetary policy across the Atlantic, it seems fair to expect that volatility in the foreign exchange markets will continue (more on this in our latest MAP).

 

Risks to the long dollar consensus. Recall that due to data delays, our positioning data does not yet include the reaction to last week's disappointing job creation data (under 200,000 for the first time in the last 12 months). If the latter is just due to some turbulence in Q1, it  seems fair to expect a strong recovery in Q2 that would force the Fed to tighten by end-summer. While delays are good for Equities and Treasuries, they would be bad for the USD (and vice versa).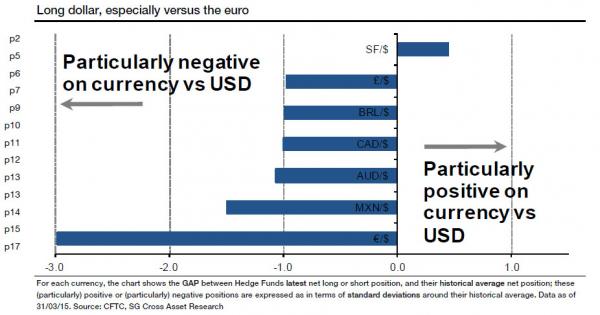 Ok, we know that the fast money has never been more long the USD, and when it turns, anyone who shorts at just the right moment will be able to retire shortly thereafter. The 64 thousand dollar question is when?
And while readers contemplate the timing of the turning point, here is a bonus chart from SocGen showing which other assets are massively loved, and unloved, by the hedge fund community.