Match Group is going to report its earnings today after the closing bell. If you don't know Match Group company, you probably know Tinder. Match Group owns Tinder and this app is considered as a most important asset of Match Group. The company also owns a number of other dating apps, they get the revenue flow from advertising. Hence its audience is the main asset. Let's check the unit economics of this company before the market closing and check whether we should consider MTCH as an investment opportunity or not. 
As you may know from my previous articles about Facebook, Twitter and others, the most important metric is an operating profit per user. Match Group's operating margin per user dropped in Q1 FY2016, because their overall ARPU (average revenue per user) also fell around 4% compared to Q1 FY2015. However, the biggest problem here is that we don't actually know a number of total users Match Group has throughout its apps, because they are showing only paid members number in their reports. Why is it an issue? First of all, we don't see the conversion rate from total number of users into paid members. Second, average revenue per user is more accurate metric rather than average revenue per paid member, because if first drops, the second could still go up.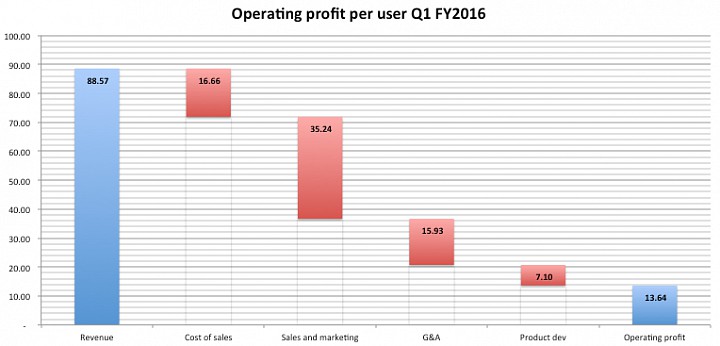 As you ca see from this chart, sales and marketing expenses are the most significant line in operating expenses. It's obvious, because Match Group needs to buy mobile traffic somewhere. In order to compare Q1 FY2016 and Q1 FY2015, check the chart below: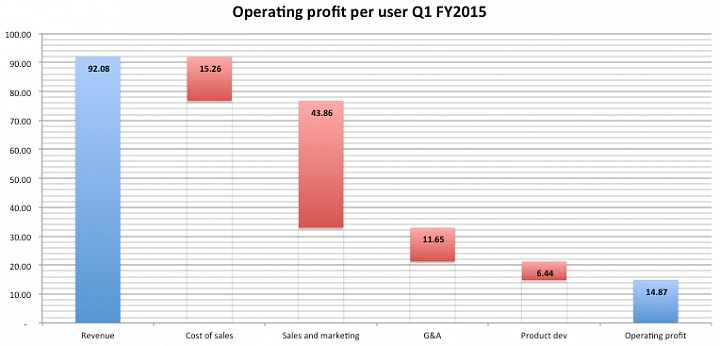 As you can see, Match Group successfully managed to decrease their sales and marketing expenses by more than 20%, however, cost of sales grew up by 9%, G&A grew up more than 35% and product development also went up almost 10%. That's why operating profit per user dropped around 8%. Traders should be really cautious with that, because unit-economics metrics show how the actual financials are going to change in mid-term. This is the first alarm signal for Match Group - decreasing sales and marketing expenses isn't enough to get an operating profit improvement. 
If you go to Match Group's financials, you'll see that they also subtract depreciation and amortization in order to calculate operating profit. As far is it's not directly related to the business, because the company's management could decide when they want to write-off their assets, I don't take them into consideration in my calculations. We are analyzing just the business part. 
Another important metric is user acquisition cost. This metric shows how much money the company spent to acquire one more user into its app. Match Group worked a lot on it and that's why that user acquisition cost dropped from more than $750 in Q1 FY2015 to less than $225 in Q1 FY2016. Average revenue per user is around $92, as we've seen before, it means that the company could get their money back in less than three quarters. 
Another issue is that we don't know the churn rate - probably the same user will drop off in 2-3 months, which means that Match Group wasn't able to get their money back from acquiring such paid member. 
Conclusion
After analyzing some operating metrics and unit-economics, we can see, that we simply don't have enough information to analyze the company's performance. Therefore, I'd recommend to avoid the stock now. I will re-visit the company's financials after they publish their 10-Q report. It could still be a worth investing stock if they are able to improve their margins per each user. The stock will most likely be very volatile, because it's very difficult for analysts to get an accurate revenue or EPS assumption.