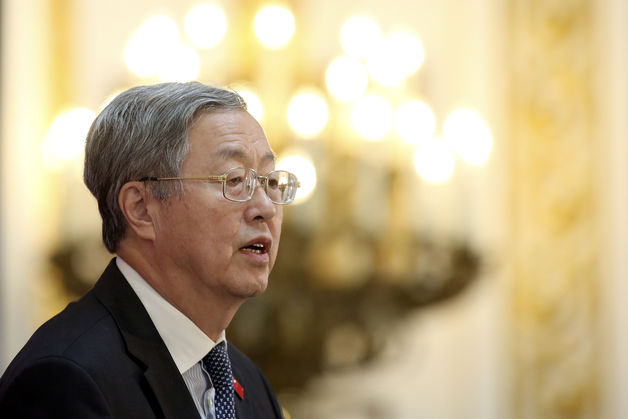 Photographer: Chris Ratcliffe/Bloomberg
Zhou Xiaochuan, governor of the People's Bank of China (PBOC).
China's central bank chief is learning you can't control what you can't cut.
The People's Bank of China's removal of state controls on borrowing costs last year has left Governor Zhou Xiaochuanstruggling to influence rates with tools such as adjusting some banks' reserve requirementsand targeted liquidity injections. Those steps haven't stopped new credit and money-supplygrowth from slowing.
Economists forecast aggregate financing of 1.135 trillion yuan ($185 billion) for August, according to the median estimate in a Bloomberg survey ahead of data due by Sept. 15. Combined with July's slump, that would be the weakest two months for China's broadest measure of new lending since 2011.
"The central bank can lift the controls, but that doesn't mean a market-based rate system will be in place," said Chen Bingcai, a former China foreign-exchange official who's now a researcher with the Chinese Academy of Governance, a Beijing-based training school for government officials. The PBOC may be "relatively powerless" until its new benchmark rates can take effect in the market, Chen said.
The risk is that the PBOC will be hampered by ineffective tools just as dangers to growth multiply from a property slump, with figures this week showing the first back-to-back monthly drop in imports in a year. Options in the pared-back toolkit include reducing reserve requirements nationwide, lowering mortgage rates and lending for specific industries or projects.
Growth Volatility
Premier Li Keqiang told business executives in Tianjin yesterday that China can achieve its main economic targets this year and short-term volatility in growth is inevitable, the official Xinhua News Agency reported. He also said M2, the government's broadest measure of money supply, rose 12.8 percent in August from a year earlier, the slowest pace in five months and below economists' forecasts for 13.5 percent growth.
Figures tomorrow on consumer and producer prices are likely to show the government has room to add stimulus if needed.
So far this year, Zhou, 66, has enacted cuts in reserve requirements for selected banks that loan sufficient amounts for agriculture and small businesses. The PBOC also extended a 1 trillion-yuanloan to a state development bank to lower financing costs for government-backed housing projects, Chinese media reported in July.
Market Rates
The "loan prime rate" based on quotes from the nine biggest lenders has hovered between 5.7 percent and 5.8 percent since the PBOC introduced it last October. A gauge of shadow banking, the average annualized interest rate for non-bank loans in the business hub of Wenzhou, was 20.65 percent on Sept. 4, little changed from two months earlier, according to the local government.
"An effective, smooth and transparent rate mechanism is needed for monetary policy to affect rates on the ground," said Zhou Hao, a Shanghai-based economist at Australia & New Zealand Banking Group Ltd. "Without such a mechanism, it's very difficult for monetary policy to achieve results."
Governor Zhou said in March that deposit rates would be liberalized within two years and in July said the central bank is preparing two to three tool sets to affect short-term and medium-term rates. It's unclear if Zhou's timetable will hold.
The ruling Communist Party said in its reform blueprint after a November conclave that it would "accelerate" interest-rate liberalization. A State Council statement in July omitted that word and said the policy shift will be "orderly," spurring speculation it will be slower than previously thought.
Changed Winds
"The winds have changed a bit," Xu Gao, chief economist at Everbright Securities Co. in Beijing, who previously worked at the World Bank, said in a note. The central bank may be concerned that interest-rate liberalization "will bring excessive risks when the other conditions are not ready," Xu said.
The PBOC didn't respond to faxed questions yesterday.
The weakening effects of China's government-set benchmarks are reflected in the changing habits of savers. While people can receive no more than 3.3 percent on one-year deposits from banks, online savings products from Alibaba Group Holding Ltd. and Baidu Inc. pay higher rates. Trust companies' assets under management have ballooned to 12.5 trillion yuan as of June.
China's high borrowing costs are caused by rising debt in the economy, blind borrowing by inefficient companies and an underdeveloped stock market, the PBOC said in its second-quarter monetary-policy report.
Remaining Options
Removing some interest-rate controls doesn't necessarily mean the PBOC is out of options. It can still influence borrowing costs because it controls rates on bank deposits and mortgages, and can spur growth with cuts in reserve requirements, said Shen Jianguang, chief Asia economist at Mizuho Securities Asia Ltd. in Hong Kong.
"Growth is slowing and interest rates are rising, for which the central bank has to do more and will do more," said Shen, who formerly worked at the European Central Bank.
China shouldn't overuse monetary policy to stimulate demand and instead should focus on structural reforms, Zhu Min, a deputy managing director at the International Monetary Fund, said in a Bloomberg television interview today at the World Economic Forum in Tianjin.
As for the adoption of new tools, there's no guarantee they'll work as effectively as those of the past.
"The central bank can start all kinds of new rates that can potentially serve as benchmarks, but it's ultimately still up to the market whether such rates will be accepted," Everbright's Xu said.
link