Earlier today I posted my options strategy for YELP and it was a risky one: buy a straddle while ATM options are expensive. When I first saw the numbers there were no doubts that the stock would soar. And it happened - Yelp's stock is 11% up after their earnings release. Main highlights here:
Net revenue was $173.4 million in the second quarter of 2016, reflecting 30% growth over the second quarter of 2015.
Cumulative reviews grew 30% year over year to approximately 108 million.
App Unique Devices grew 27% year over year to approximately 23 million on a monthly average basis1.
Local advertising accounts grew 32% year over year to approximately 128,000.
However, numbers didn't impress me because of one main reason: Yelp showed a positive operating income. It means that they have an efficient business model. This is the most important factor why the stock is skyrocketing right now. Here is their P&L: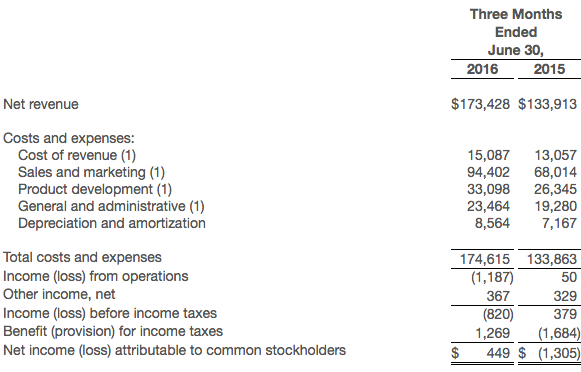 Just in order to remind you, my options strategy consisted of buying a $32 straddle and then selling OTM put and call options. P&L is the following:

YELP is at $36.2 right now, it means that we almost reached the maximum return of 62%.