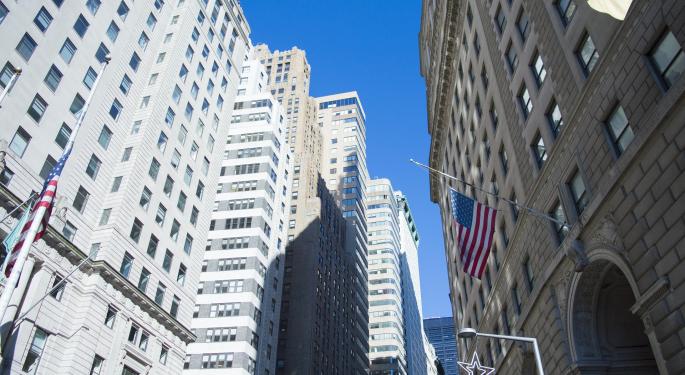 Below is a tool used by the Benzinga News Desk each trading day -- it's a look at everything happening in the market, in five minutes. Apply for daily AM access by clicking here or email minutes@benzinga.com.
Macro Focus
The U.S. stock market has been trading in a tight range in recent days and that trend continued on Tuesday. Early gains were wiped out by the afternoon and the major averages closed modestly higher. Futures for the Dow Jones Industrial Average climbed 18 points to 18,484.00, while the Standard & Poor's 500 index futures gained 3 points to 2,180.50. Futures for the Nasdaq 100 index rose 6.50 points to 4,798.25.
Oil prices traded lower as Brent crude futures declined 0.09 percent to trade at $44.94 per barrel, while US WTI crude futures also fell 0.40 percent to trade at $42.60 a barrel.
USA MBA Mortgage Applications (WoW) for Aug 5 7.10% vs -3.50% prior reading.
The Labor Department's JOLTS report for June will be released at 10:00 a.m. ET.
The Energy Information Administration's weekly report on petroleum inventories is schedule for release at 10:30 a.m. ET.
The U.S. Treasury budget data for July will be released at 2:00 p.m. ET.
The Treasury is set to auction 10-year notes at 1:00 p.m. ET.
BZ News Desk Focus
Disney DIS 0.5% Reports Q3 Adj. EPS $1.62 vs $1.61 Est., Sales $14.277B vs $14.15B Est.
Yelp YELP 13.36% Reports Q2 Adj. EPS $0.16 May Not Compare to $(0.07) Est., Sales $173.4M vs $169.8M Est.
SunPower SPWR 30.68% Reports Q2 EPS $(0.22) vs. Est. $(0.24), Rev. $420.5M vs. Est. $401.8M
Michael Kors KORS 0.64% Q1 EPS $0.88 vs $0.74 est, Revenue $987.9M vs $953.0M est
Wendy's WEN 5.89% Reports Q2 EPS $0.10 vs. Est. $0.09, Rev. $382.7M vs. Est. $367.5M
Perrigo PRGO 11.52% Q2 EPS $1.93 vs $1.98 est, Revenue $1.48B vs $1.43B est
Sell-Side Themes
Yelp received at least three upgrades, while SunPower received at least three downgrades.
Sell-Side's Most Noteworthy Calls
Morgan Stanley downgraded WhiteWave WWAV 0.03% to Equal-Weight.
JMP downgraded Medivation MDVN 0.66% to Market Perform.
Bank of America upgraded Coach COH 0.54% to Neutral.
Bernstein upgraded General Dynamics GD 1.97% to Outperform.
Barclays started coverage on US Silica SLCA 0.13% at Overweight.
Deal Talk
Disney is acquiring a 33 percent stake in BAMTech, the technology services and video streaming company formed by Major League Baseball for $1 billion. Disney has the option to acquire majority ownership.
Intel INTC 0.46% is acquiring AI startup Nervana Systems, according to the company's website. Recode is reporting the purchase price is more than $400 million.
Entertainment One Ltd., the film and TV distributor known for popular cartoon character "Peppa Pig," rejected a takeover offer from ITV Plc that values the business at about 1 billion pounds ($1.3 billion), and suggested it's seeking a higher price.
In The News
Add another weird and unfortunate footnote to the 2016 U.S. Presidential election. Many reporters, pundits and Twitter users interpreted the line as threat of assassination against Hillary Clinton.
"If she gets to pick her judges, nothing you can do folks," Donald Trump told a crowd. "Although the Second Amendment people, maybe there is, I don't know."
The GOP nominee's Senior Communication Advisor, Jason Miller, released a statement intending to clarify Trump's comments: "It's called the power of unification - 2nd Amendment people have amazing spirit and are tremendously unified, which give them great political power. And this year, they will be voting in record numbers, and it won't be for Hillary Clinton, it will be for Donald Trump."
Blogosphere
Should you hedge your portfolio against the Zika virus. Take a look at this interesting chart.
Education
Going Long: Going Long on a security means an investor has purchased the respective commodity, stock, or bond with the intent of the security increasing in value in the future.
Trending
YELP DIS SPWR UWTI JD KORS PRGO WATT MYGN AG YY MAIN CYBR FOSL BABA
U.S. Swimmer Michael Phelps, the most accomplished Olympian of all time, added a couple more gold medals to is neck last night. Phelps now has 21 Olympic gold medals to his name after winning the Men's 200 meter butterfly and the Men's 4x200 meter freestyle relay. #Rio2016
© 2016 Benzinga.com. Benzinga does not provide investment advice. All rights reserved.
Source