The markets have surged in the last week based on hype and hope of more QE from Central Banks. This view is overlook the fact that EVERY collapse follows a pattern:
1) The initial drop
2) The bounce to "kiss" former support
3) The real implosion.
We've passed #1 and are in the middle of #2. Next up is #3.
Abroad, the damage has been even worse with China, Brazil, and the Emerging Market complex as a whole imploding.
China's stock bubble has burst.
Brazil has taken out its bull market trendline.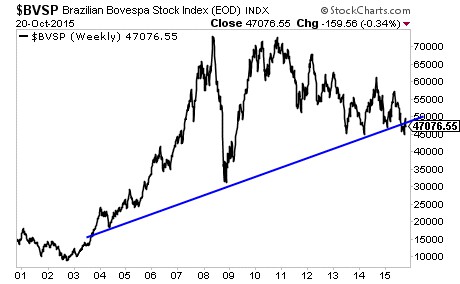 As have the Emerging Markets as a whole.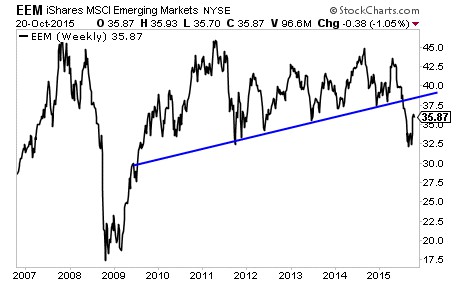 The hype and hope of more QE misses the point...
The bull market of the last six years is likely over.
We will get bounces, like the one that has occurred in the last two weeks. But the trend is now down.
Already investors have begun to realize that Central Banks have lost control of the markets. This is why they erased months' worth of gains in four days' time.
Indeed, at this point, it looks as though the END GAME has begun, ushering in a crisis that will make 2008 look like a joke.
Smart investors are preparing now, BEFORE it hits.
If you've yet to take action to prepare for the second round of the financial crisis, we offer a FREE investment report Financial Crisis "Round Two" Survival Guide that outlines easy, simple to follow strategies you can use to not only protect your portfolio from a market downturn, but actually produce profits.
You can pick up a FREE copy if you...
Best Regards
Phoenix Capital Research
Our FREE daily e-letter: www.gainspainscapital.com