Crude rose as expanding wildfires in Canada knocked out about 1 million barrels a day of output, and after Saudi Arabia replaced Oil Minister Ali al-Naimi with a close ally of the deputy crown prince.
Futures increased as much as 2.9 percent in New York and 2.5 percent in London. The blaze has led to cuts equivalent to about 40 percent of Canada's oil-sands production, based on IHS Energy estimates. Al-Naimi will be succeeded by Saudi Arabian Oil Co. Chairman Khalid Al-Falih, an ally of Prince Mohammed bin Salman, who has backed the nation's policy of prioritizing market share over prices and insisted any output freeze must involve Iran.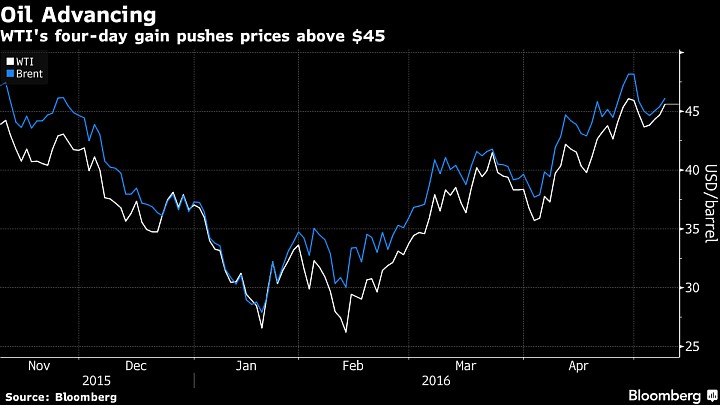 Oil has rebounded after slumping to the lowest level since 2003 earlier this year amid signs the global oversupply will ease as U.S. output declines. While American production has dropped, the Organization of Petroleum Exporting Countries has boosted supply to more than 33 million barrels a day, underpinned by gains from Iran and Iraq.
"The market is taking a cautious approach to the Canadian fires and keeping the price a...
More