By Carly Forster
Social media giant Twitter Inc (NASDAQ:TWTR) has been on quite a roller coaster in the first half of 2015, ultimately having fallen almost 19% year-to-date.
Many investors blame Twitter's decline on former CEO Dick Costolo, who officially stepped down from the position on July 1 of this year. Investors held Costolo responsible for Twitter's ongoing deceleration of user growth and lack of innovations on its platform.
Twitter co-founder Jack Dorsey was named interim CEO until the board brings on a new replacement. Dorsey is also the CEO of Square, a mobile credit card payment company. With that said, SunTrust analyst Robert Peck believes that Twitter will announce a new permanent CEO as early as next week and believes it will be Jack Dorsey.
The analyst noted, "We think the company is likely to announce a Triumvirate of leadership, with: Jack Dorsey as CEO, Adam Bain as COO / President, and Ev Williams with more board influence (perhaps Chairman)." Since Dorsey is also still the CEO of Square, Peck believes it "is unclear how institutional investors will react to a permanent CEO who is also the CEO of a pre-IPO company." Despite "the complexity of Twitter's turnaround and product road map," Peck believes "this Triumvirate structure may be the best solution."
As such, Robert Peck reiterated a Neutral rating on Twitter on August 14, commenting, "We would look for the company to put more expertise on the board in media, technology, and operations. We think active involvement by these directors is critical to shaping Twitter's future."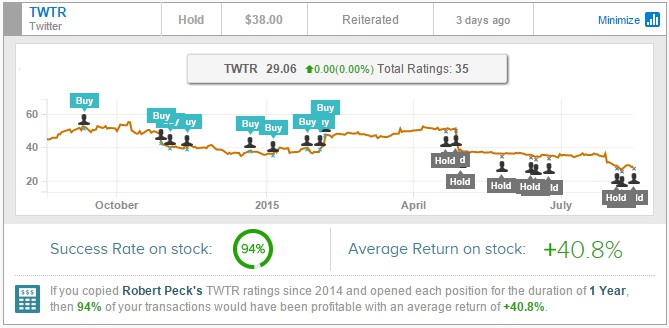 Overall, Robert Peck has a 61% success rate recommending stocks and a +11.4% average return per recommendation when measured over a one-year horizon and no benchmark. He has rated Twitter 35 times since 2014, earning a 94% success rate recommending the company and a +40.8% average return per recommendation.
On the other hand, Jefferies analyst Brian Fitzgerald reiterated his bullish stance on Twitter on August 13, citing the potential for the company to scale its video applications, Vine and Periscope. Twitter acquired Periscope in March of this year for $100 million. Fitzgerald believes Twitter can use Periscope and Vine to its benefit because online video ads have the potential to generate more than $17 billion on an annual basis by 2017 in the United States.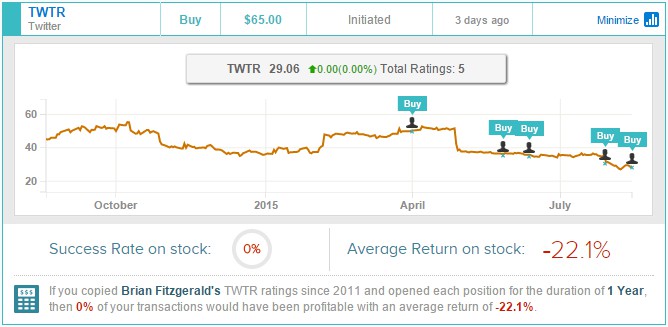 On average, Brian Fitzgerald has a 54% success rate recommending stocks and a +15.0% average return per recommendation when measured over a one-year horizon and no benchmark. The analyst has rated Twitter 5 times this year with no success and a -22.1% average loss per recommendation.
Out of 26 analysts polled by TipRanks, 11 analysts are bullish on Twitter and 15 are neutral. The average 12-month price target on Twitter is $41.95, marking a 44.36% potential upside from where the stock last closed. On average, the all-analyst consensus for Twitter is Hold.
Carly Forster writes about stock market news. She can be reached at Carly@tipranks.com