The AUD/NZD pair has been making fresh record lows in 2015. Since making a low at 1.03, it has been trading in more of a sideways manner, although it edged out a new low around 1.0283. 

AUD/NZD 4H Chart 3/6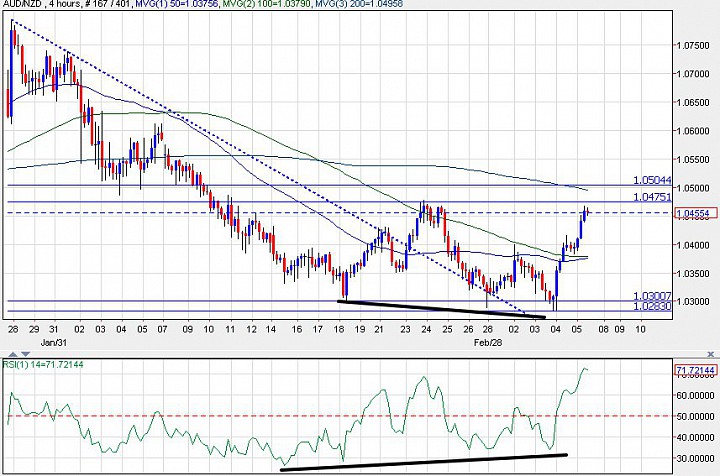 (click to enlarge)

Some observations:
1) There is a fractal double bottom forming in the 4H chart. 
2) There is a slight bullish divergence, although that has already been resolved as price rebounded.
3) The 4H RSI tagged 70, which shows bullish momentum.

Now, if price goes in to the 1.0475-1.0505 area, it should find resistance at least in the short-term. Then, we should see if price will fall back below the 1.0375-1.04 area, which is like the central pivot of the current range. Ability to hold above 1.04 would be another sign that the market is trying to build a price bottom. Otherwise, this was simply a consolidation range, and there would be further downside risk to 1.0280-1.03 and beyond.

Let's say price does hold above 1.04. While this would give us a bullish outlook and suggest a price bottom, we should first limit the bullish outlook to 1.0570. 
AUD/NZD Daily Chart 3/6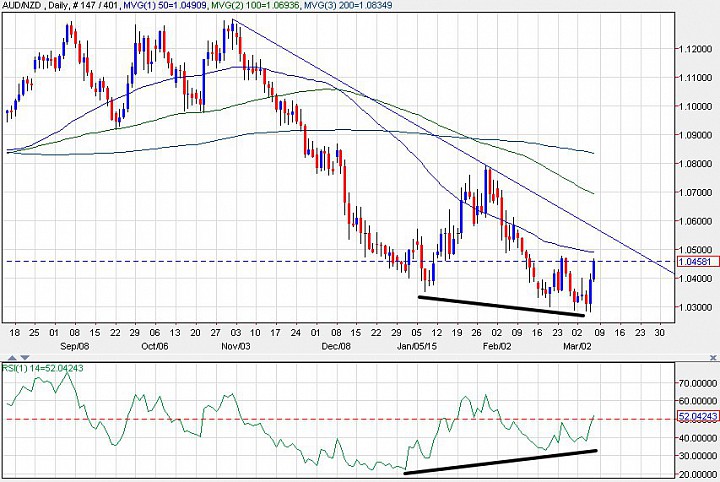 (click to enlarge)

In the daily chart, we can see that if price reaches the 1.0570 area, it will be challenged by a falling trendline. If price stalls there, and the RSI holds below 60, then the bearish outlook remains. If price still can't push back below 1.04, then, we can have even more reach to believe in a bullish outlook. If price breaks above that falling trendline, it opens up the 1.08 handle for AUD/NZD.