By Howard Kim
Tesla Motors Inc. (NASDAQ:TSLA) has been in the news a lot lately ever since the launch of its latest SUV, named Model X. Morgan Stanley analyst Adam Jonas recently weighed in on Tesla in light of the new vehicle.
Jonas lowered his price target for Tesla's stock to $450 from $465 on October 6 but still maintained an Overweight rating on the stock.
According to Jonas, the company appears to have met the "high expectations" he had about the technical capabilities of the "Model X." However, he also expressed concerned about the cost as the new model is priced "easily" $10,000 to $15,000 higher than what he had initially expected.
Jonas said, "Even allowing the Model X ATPs to decline over time through the introduction of lower-spec models leaves what we believe to be a higher- priced vehicle than we expected that may struggle to meet the volume expectations of the market and our forecasts."
Given the higher-than-expected price, Jonas expects the Model X to meet consensus volume expectations. For 2016-2018, the analyst has cut his annual volume forecasts by between 5,000 and 10,000 units. According to Jonas, Tesla will not be able to deliver more than 20,000 units of the Model X in 2016 unless it introduces substantially economical versions of the model in the future.
For the same period, he also cut his annual volume forecasts for the Model S by 2,000 to 3,000 units, factoring in some cannibalization and expectations of lower volumes from China.
Taking into account the lower unit volume forecasts for the Model X and Model S and a higher average transaction price for the Model X, Jonas expects a 2% reduction in the group's non-GAAP revenues in 2016 and 2017.
Jonas concluded by saying, "Model X pricing reinforces our view that Tesla may need to explore new business models of mobility that address sustainable transport that more efficiently apply its EV technology in a connected and shared ecosystem."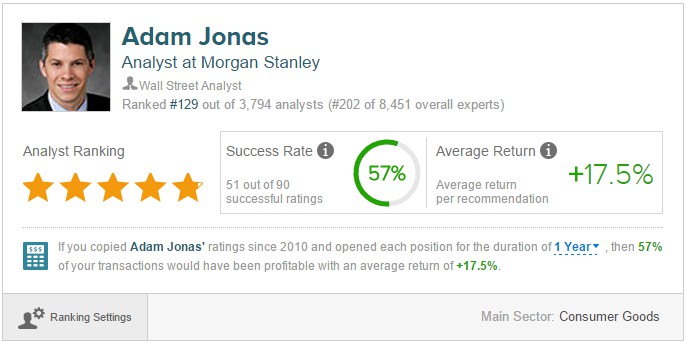 Jonas has rated Tesla 35 times total since 2010, earning a 66% success rate recommending the stock and a +36.7% averages return per recommendation when measured over a one-year horizon and no benchmark. Overall, he has a 57% success rate recommending stocks and a +17.5% average return per recommendation.