Is the stock market headed toward a near-term selloff?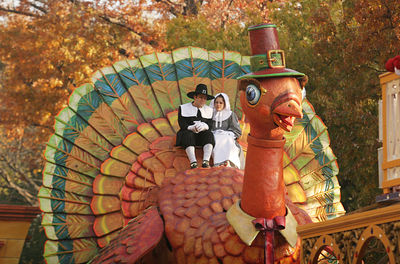 Getty Images
Will investors get a side of stock-market correction with their Thanksgiving?

Gobble, gobble! By recovering most of their losses from a late-August rout spurred by China growth fears, stocks have clawed their way back from the abyss.
So, what's the near-term outlook for Wall Street?
Market analytics firm Asbury Research believes that the market is looking awfully vulnerable to a correction between now and Thanksgiving, celebrated on Nov. 26. in the U.S.
For sure, there are signs of weakness. Stocks have slumped since the jobs report offered the clearest support yet for the Federal Reserve to lower the curtain on ultra-loose monetary policy that has been in place for nearly a decade.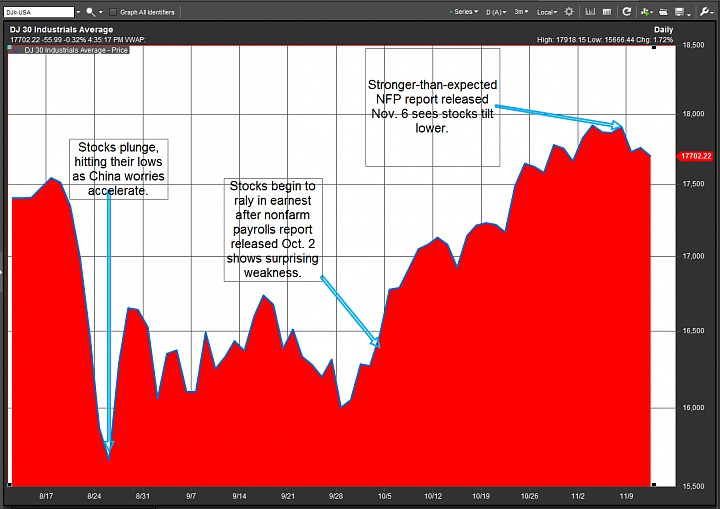 Although the folks at Asbury are optimistic about stocks over the longer term, they are spotting some troubling signs that may result in a "corrective pullback." A correction is widely considered a decline of at least 10% from a recent peak.
Following are the six reasons Asbury is seeing a potential market retreat in the cards:
1) Nasdaq Composite resistance
The Nasdaq Composite Index COMP, -1.22% has been facing some serious resistance lately. From a technical perspective, the Nasdaq has tried to test its high of 5,133 and failed four times in 2015, Asbury says. Its team says a failure to push ahead of that key level means the index is poised for a pullback.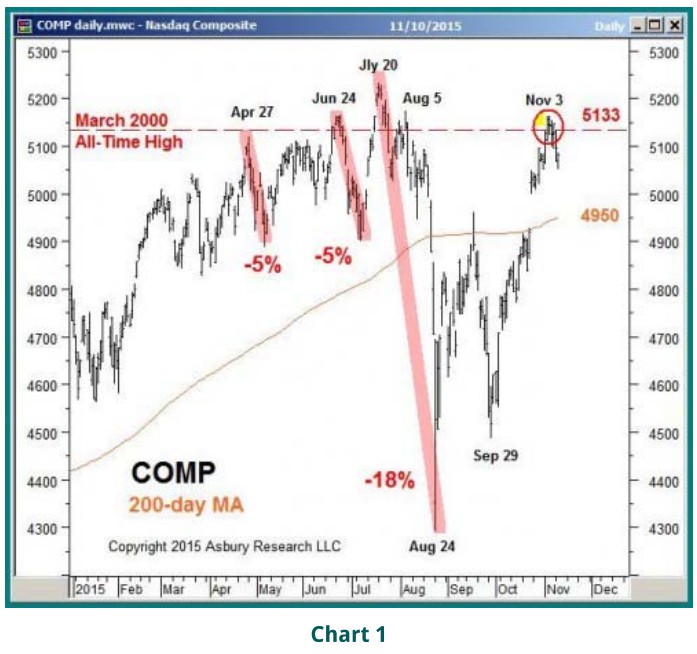 2) MACD break down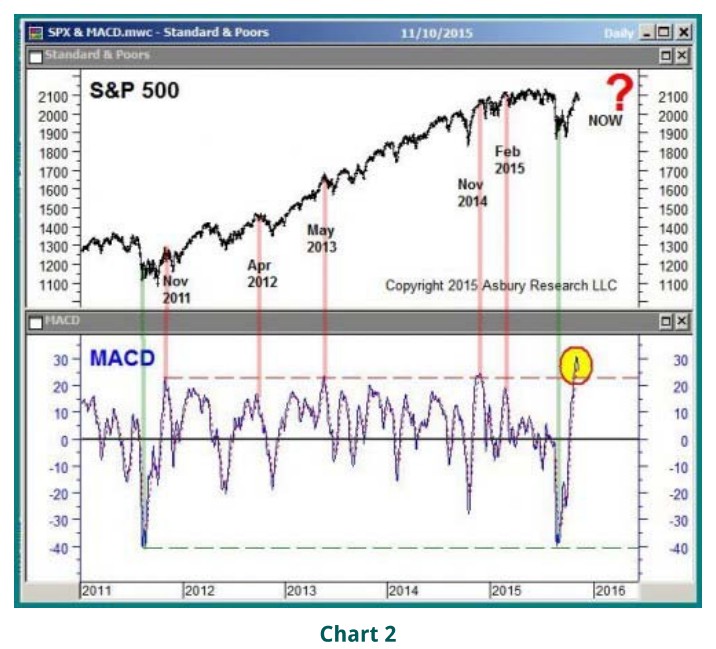 Asbury says one complex technical indicator is signaling a downturn in stocks. So-called MACD, or moving average convergence divergence, is an indicator that uses the difference between long-term and short-term price trends as a way to predict asset moves. MACD appears to be reversing from a trajectory that pointed to a bullish ascent for stocks recently.
The above chart attempts to illustrate a trend of MACD reaching a peak, coinciding with a downturn in the S&P 500 index SPX, -1.40%
3) Stocks are overbought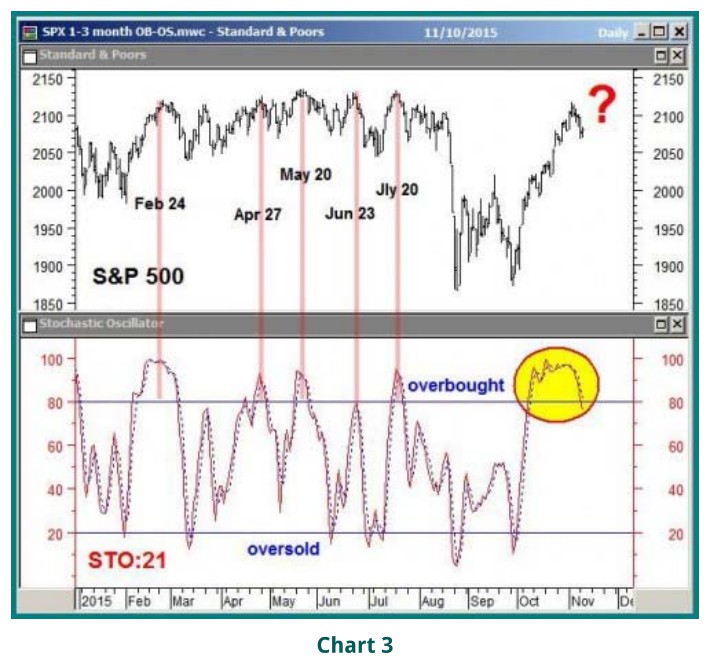 Stocks are "overbought". This is a mantra that has started to gather steam over the past few weeks as the markets have risen. What does the term overbought mean? MarketWatch's Wallace Witkowski offers a good definition in this recent article. In a nutshell, an overbought asset is one that moves outside of a given range. In the case of an overbought stock, that can mean trading above its 50-day moving average.
Asbury uses a 21-day stochastic oscillator—a measure of overbought and oversold conditions—to gauge if the market is overbought. By that measure, the above chart shows a trend of overbought conditions resulting in pullbacks over the past year.
4) Bad breadth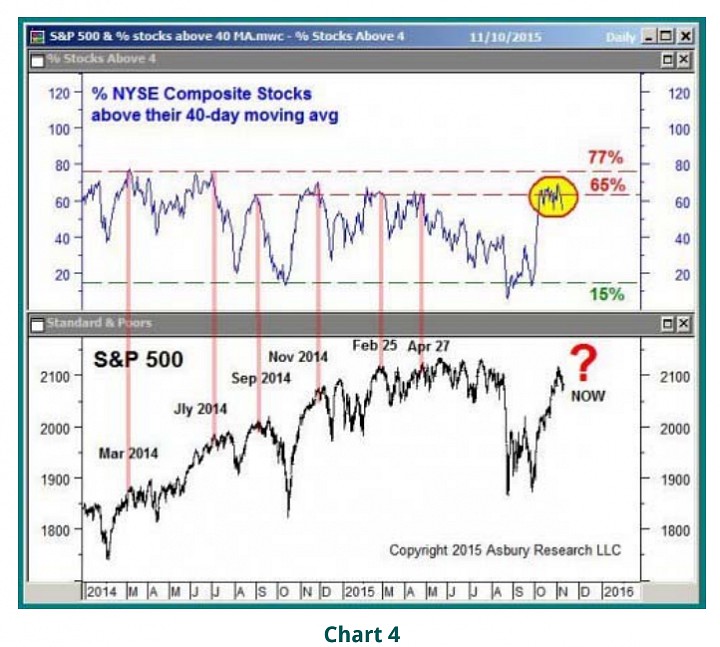 Asbury says 65% to 77% of NYSE Composite stocks are trading above their 40-day moving averages. That ought to be a good thing, but the firm says that level of breadth in the market has been followed by a pullback, "one which had previously coincided with or closely led most every peak in the S&P 500 since 2014."
Also read: S&P 500, Dow suffer from bad breadth
5) High-yield bonds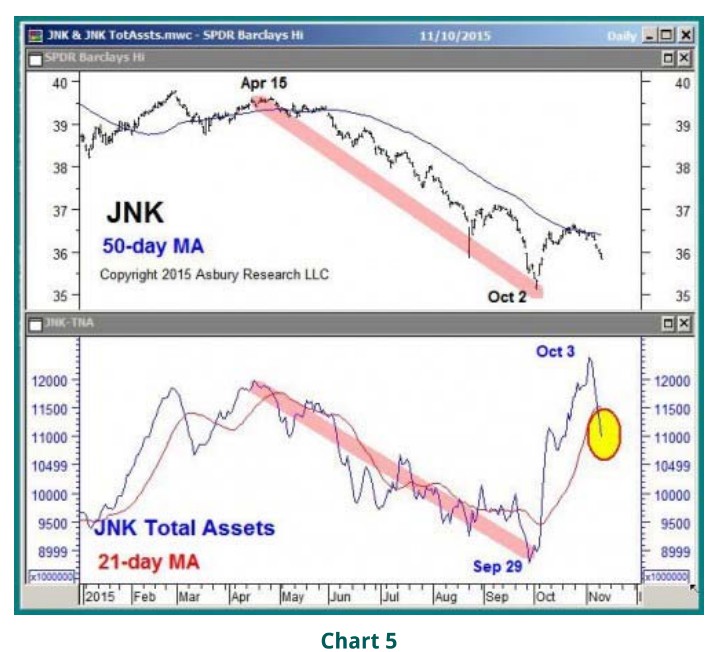 High-yield bond prices are getting hit, as gauged by the SPDR Barclays High Yield Bond ETF JNK, -0.75% Also known as junk debt, high-yield bonds are those issued by companies whose credit rating is below investment grade and considered riskier than debt from higher-quality companies. Prices of so-called junk debt have fallen, sending their yields higher, as concerns about global growth and a collapse in oil prices have rattled investors.
At the same time, the prospect of the Federal Reserve raising interest rates has sent yields of U.S. Treasurys, such as 10-year notes TMUBMUSD10Y, -0.42%considered ultrasafe, climbing. That is significant because widening spreads between below investment-grade bond yields and Treasurys have coincided with a contraction in stocks, Asbury says.
6) Investor complacency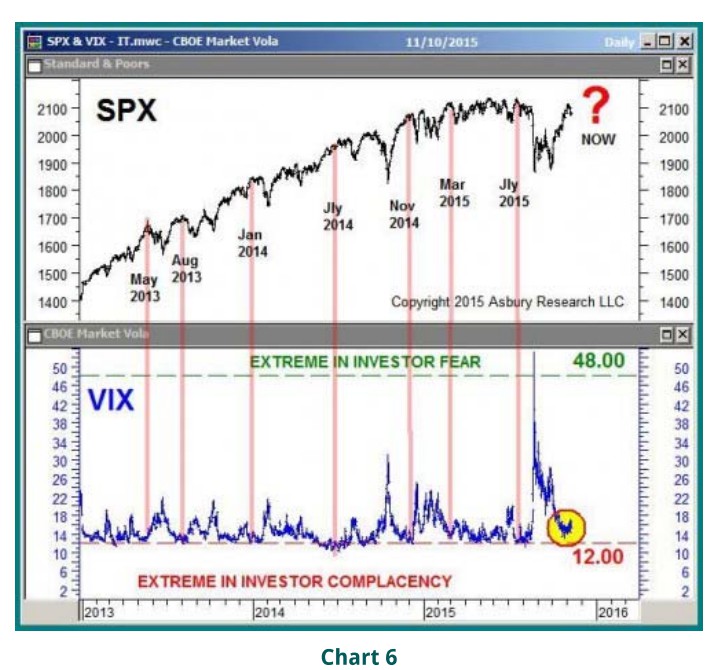 The CBOE Volatility Index VIX, +14.38% referred to sometimes as the "fear index," is reaching a level that suggests investors are becoming fearless or complacent. That can translate into the market being shocked, leading to a downdraft.
On the bright side, Asbury says the October jobs report points to a market that is healthy and recommends buying into any correction.
More from MarketWatch