USD/CAD has been bullish in the second half of August. It was boosted further last week after the market interpreted Janet Yellen's speech to be hawkish - that there will indeed be a rate cut by the end of the year. 

USD/CAD Daily Chart 8/30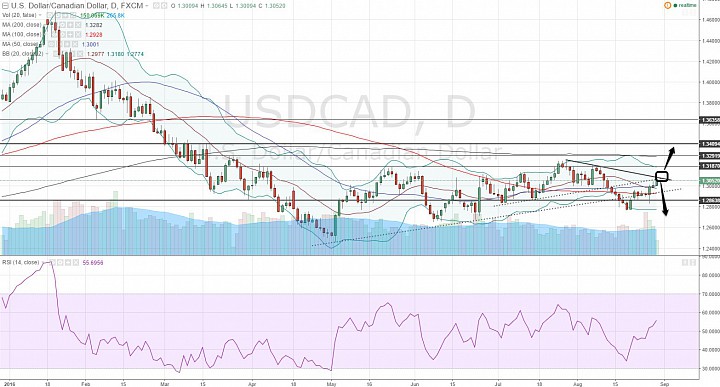 (click to enlarge)

Middle of consolidation:
- When we look at 2016 price action as a whole, it has been bearish for USD/CAD. 
- Since hitting 1.2460, low on the year, in May, USD/CAD has been consolidating.
- Basically, the general mode of USD/CAD is bearish-neutral.
Bearish bias:
- The fact that the overall 2016 mode is bearish and that price fell below a couple of rising trendlines in August, reveal slight bearish bias. 
- The current rally form just under 1.28 is the first pullback since that bearish break.
- Will the market hold on to the bearish bias?
Bearish scenario:
- If price can hold below 1.31, USD/CAD would essentially be holding below a falling speedline from July.
- This suggests further downside risk, first back towards 1.28, then towards those June lows around 1.2650. 
Bullish scenario:
- If price rallies above 1.31, we should consider the bias neutralized. A break above 1.31 should clear the falling speedline coming down from the high in July. 
- If the market does indeed push price above 1.31 and shows support at 1.30, we have a bullish outlook for USD/CAD that has the 1.34 resistance area as as viable target.