Introduction
NISSAN MOTOR CO., LTD is a Japanese multinational automobile manufacturer, headquartered in Yokohama, Japan. It mainly engaged in the manufacturing and sale of automobile, marine, as well as other related accessories. The Company operates its business through two segments. The Automobile segment is engaged in the manufacturing, trading and distribution of various types of automobiles, marine products and accessories. The Sales Financing segment is engaged in the provision of sales financing, as well as leasing business for supporting automobile marketing activities. Nissan is of the the leading Japanese brands in China, Russia and Mexico.
Perfomarnce
The given chart shows share price changes of Nissan and its main global competitors (Toyota Motors, Honda Motors, General Motors). We deduce that the Nissan shares follow the common trend, while growing at a faster pace (when there is an upward trend) and dropping less (when there is a downward trend).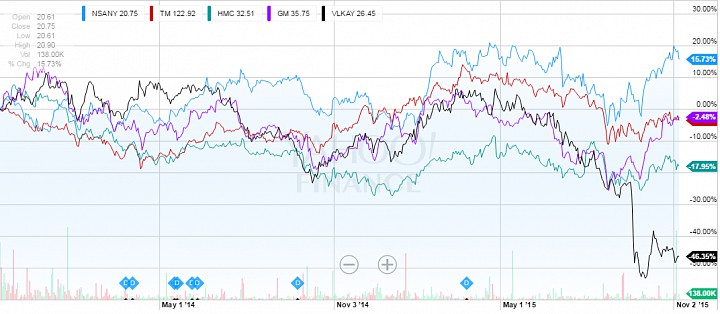 Source: Yahoo Finance
This gives evidence that currently the company is undervalued as P/E and P/B ratios are still low relative to its peer group.

Source: Table made by authors, based on data from Amigobulls
In our opinion, one of the Nissan share growth drivers will be the notorious Volkswagen scandal and redivision of the US market later on. According FY14 Consolidated Financial Results, the US market brings 34% of the Nissan's revenue. The Nissan's US market share is expected to increase from 8.6% in 2015 to 10% in 2017. In order to catch up with the forecasts and become the second largest automobile manufacturer in the US market, the company shifts towards selling the practical Qashqai (instead of already old fashioned Nissan Rogue) and restyling all time best selling SUV Murano, sedan Maxima, pickup truck Titan.
Over the last couple of days, shares of Nissan dropped by 3,5% as it was found that Takata airbags, used by Nissan, were unsafe. However, the company publicly apologised and acknowledged that it will do everything possible to keep the customers away from such unpleasant occasions, promoting profound integrity with the clients.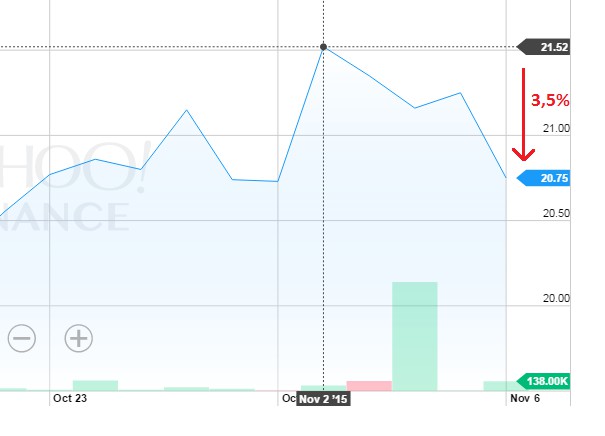 Source: Yahoo Finance
Electric Vehicles Business
Another key factor that may have significant influence on the Nissan share price is an ongoing development of electric car industry (in which Nissan strongly participates). At the moment Nissan Leaf (costs US$ 22,000) is one of the most popular and affordable electric cars in the world. In September Leaf sales were ranked 3rd in the US market after Tesla Model S (prices of which start from US$ 60 000) and BMW i3 (US$ 45 000 respectively). These are not the direct competitors to Nissan Leaf in a narrow sense as they belong to a premium segment. In order to keep its market positions untouched, Nissan is upgrading Leaf in in 2016 and 2018 that has already received a solid safety rating (4 of 5).The car is expected to get a brand new battery. Nissan has started testing the Nissan Leaf based autonomous car prototype on Japanese inner city roads and highways. The carmaker wants to put the "Piloted Drive" mode on to see the car control in certain conditions. Nissan hopes to put in the production models by the end of next year allows a car to drive autonomously in heavy traffic on the highway. By 2018, Nissan anticipates that the car has the ability to change lanes and also the power to navigate city roads and intersections by 2020.
News on the Leaf upgrade begot vivid moves in the markets, helping the shares to gain 22,7%.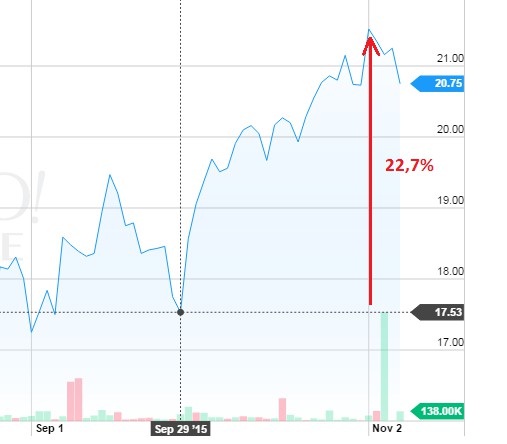 Source: Yahoo Finance
We recommend risk averse investors not to buy these shares if they see electric vehicle business as a major growth driver as this market is nascent and there are associated risks, which might break down this industry (absence of infrastructure, slow technology development tempo, poor consumer experience, high price).
That being said, there are companies that feel pretty good, operating in the high risk industry. One of the bright examples is Tesla shares (we consider them tremendously overvalued), being traded now at a price 11 times as high as they were at the start and showing CAGR of 50%.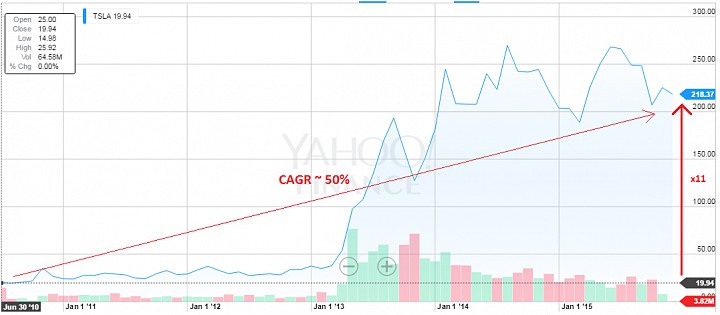 Source: Yahoo Finance
But there are also examples not so successful. Fisker Automotive, a plug in hybrid elecric vehicles manufacturer, was being ubiquitously compared to Tesla 4 years ago and suddenly went bankrupt in November 2013 due to the above mentioned lack of technology development.
(Look at them more precisely. They both even look similar, yet one of them was doomed to fail)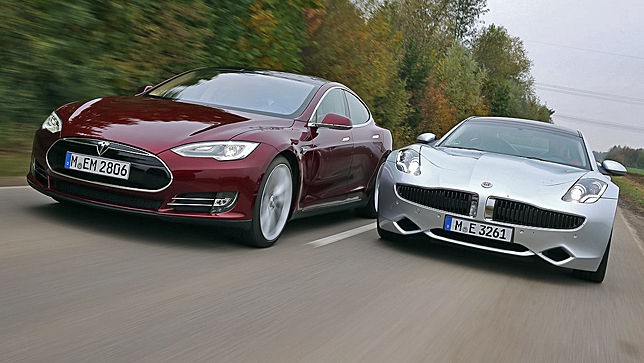 Source: Autobild.de
Conclusion
We see Nissan as an enticing investment, though it must be acknowledged that these shares are sweet only for the risk takers due to uncertainty concerning the whole electric vehicle industry.
Disclaimer
We are neither holding, nor planning to open any position. We are merely presenting our opinion, intended to be used in the WhoTrades Investment Strategy Contest.