Agenus Inc. AGEN is expected to report first-quarter 2016 results on Apr 28.

Agenus' track record has been disappointing so far. The company has missed estimates in all of the last four quarters, with an average negative surprise of 61.39%. In the last reported quarter too, it recorded a negative earnings surprise of 5.56%.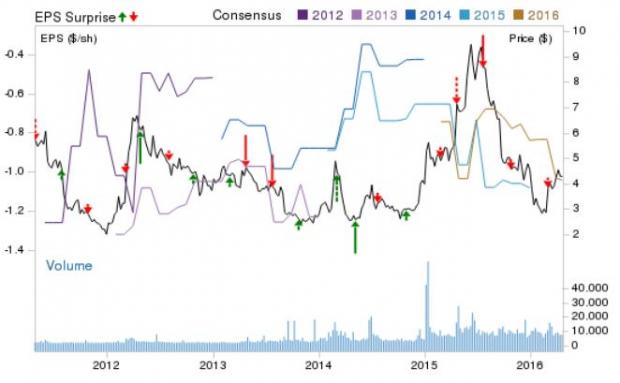 Let's see how things are shaping up at the company this quarter.

Factors at Play

Agenus is an immuno-oncology company focused on the discovery and development of revolutionary new treatments that engage the body's immune system to fight cancer. The company has three platform technologies for the development of its candidates – Retrocyte Display, SECANT, and phage display– each designed to produce quality human antibodies.

Agenus, which earns revenues primarily through fees received from collaboration and license agreements, should continue to witness top-line growth. Its collaboration agreements with several companies, like GlaxoSmithKline plc  GSK, not only provide it with funds in the form of upfront and milestone payments and future royalties, but also validate the company's proprietary product platform.

Given that Agenus does not have any approved product in its portfolio yet, investor focus should remain on pipeline updates by the company. The company has several early-to-mid stage candidates in its portfolio.

We note that Agenus is developing the Prophage vaccine for the treatment of glioblastoma multiforme. A phase III study on the vaccine is expected to be initiated in the second half of 2016.

Also, the company received a major boost when the FDA cleared its investigational new drug (IND) application for both AGEN1884 and INCAGN01876 in Jan 2016. Phase I studies on both the candidates are expected to be initiated in the first half of 2016. Consequently, research and development expenses are expected to grow sequentially.

We remind investors that Agenus expanded its cancer vaccine program through its Dec 2015 acquisition of PhosImmune Inc. The transaction gave the company the ability to potentially accelerate the development of novel off-the-shelf and personalized cancer vaccines.

Earnings Whispers

Our proven model does not conclusively show that Agenus is likely to beat estimates this quarter. That is because a stock needs to have both a positive Earnings ESP and a Zacks Rank #1 (Strong Buy), 2 (Buy) or 3 (Hold) for this to happen. Unfortunately, this is not the case here as you will see below.

Zacks ESP: The Earnings ESP, which represents the difference between the Most Accurate estimate and the Zacks Consensus Estimate, is -8.70%.

Zacks Rank: Agenus currently carries a Zacks Rank #3, which when combined with a negative ESP, makes surprise prediction difficult.

Note that we caution against stocks with a Zacks Rank #4 or 5 (Sell-rated stocks) going into the earnings announcement, especially when the company is seeing negative estimate revisions.

Stocks That Warrant a Look

Here are a couple of health care stocks that you may want to consider, as our model shows that they have the right combination of elements to post an earnings beat this quarter.

Innoviva, Inc. INVA has an Earnings ESP of +77.78% and a Zacks Rank #2. It is scheduled to report first-quarter results on Apr 28.

The Earnings ESP for Sanofi SNY is +4.17% and it carries a Zacks Rank #2. The company is scheduled to release first-quarter results on Apr 29.

Want the latest recommendations from Zacks Investment Research? Today, you can download 7 Best Stocks for the Next 30 Days. Click to get this free report >>
Want the latest recommendations from Zacks Investment Research? Today, you can download 7 Best Stocks for the Next 30 Days.
Click to get this free report
AGENUS INC (AGEN): Free Stock Analysis Report
To read this article on Zacks.com click here.
Zacks Investment Research