China Stocks Fall Most in Week on Earnings, Bank Lending Outlook
China's stocks fell, sending the benchmark index towards its biggest loss in a week, amid speculation the slowing economy is hurting profit growth and new bank lending remains weak.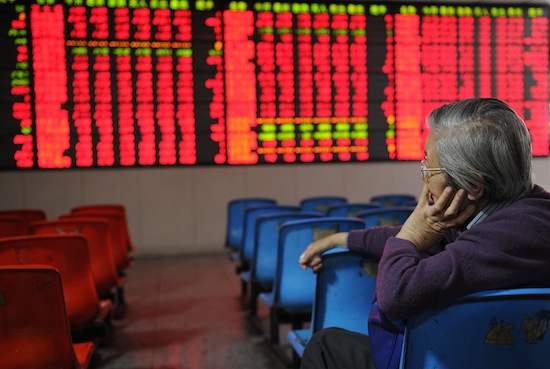 Huaxia Bank Co. and Poly Real Estate Group Co. led declines for financial companies, sliding at least 1.1 percent. Baoshan Iron & Steel Co. lost 1.5 percent after reporting a 14 percent drop in first-half profit. BYD Co. fell the most in seven weeks after reporting a 16 percent slump in net income. China CNR Corp. gained 1 percent after Premier Li Keqiang said the industry should seek private funds for investment.
The Shanghai Composite Index (SHCOMP) fell 0.5 percent to 2,228.92 at 1:07 p.m. local time. Concerns about the strength of the recovery have grown after data this month showed the weakest credit growth since 2008 and an unexpected slowdown in industrial output. The nation's four biggest banks made new loans of about 56 billion yuan ($9.1 billion) in the first 17 days of August, Caixin reported Aug. 22, without citing anyone.
"We see a slight correction as data wasn't good recently," said Mao Sheng, an analyst for Huaxi Securities Co. "Companies with bad earnings are being dragged down too. Investors are avoiding the cyclical stocks and are selecting stocks that benefit from government policies such as railway."
The CSI 300 Index fell 0.9 percent. The Hang Seng China Enterprises Index (HSCEI) retreated 0.1 percent. The Bloomberg China-US Equity Index rose 0.2 percent on Aug. 22.
Lending Concerns
A gauge of developers in the Shanghai index slid 0.8 percent for the second-biggest loss among five industry groups. Poly Real Estate, the second-largest developer, lost 1.2 percent. China Vanke Co., the biggest, dropped 2 percent. Huaxia Bank slumped 2 percent. Ping An Bank Co. fell 1.4 percent.
New local-currency loans totaled 385.2 billion yuan in July, the People's Bank of China said Aug. 13. That compared with the median estimate of 780 billion yuan. While the International Monetary Fund has urged China to curb its credit expansion, the loan figures sparked investor concern that growth in the world's second-largest economy will falter without monetary stimulus.
A slowing of increases in bank lending could undermine efforts to sustain growth, Dariusz Kowalczyk, a Hong Kong-based strategist at Credit Agricole CIB, wrote in a note to clients.
The Shanghai measure climbed for a sixth week last week, extending gains to 12 percent since mid-March, amid speculation China will reduce government ownership of state-owned enterprises and a link between the exchanges in Hong Kong and Shanghai will fuel fund inflows.
Stocks Outlook
Chinese stocks, on pace for their best quarterly gain in a year, are still in the "early" stages of a rally, according to Marketfield Asset Management LLC's Michael Shaoul.
Marketfield, which manages $18.5 billion, is bullish on Chinese equities amid optimism the government will take more steps to boost Asia's biggest economy, Shaoul said. President Xi Jinping is trying to avoid a slowdown in output as he seeks to increase the contribution from services to growth, while reducing reliance on the credit-driven construction that has propelled expansion in the past.
"We would expect to see the government and the central bank bring in stimulus measures favoring state-owned enterprises, which is quite bullish," Shaoul said by phone from New York on Aug. 20. "What they don't seem to want to do is to re-stimulate real estate itself. You might even start to see retail money redirected to equities after years of chasing real estate."
Earnings Concerns
Baoshan Steel fell the most in a week after the company reported a first-half net profit of 3.15 billion yuan, compared with 3.7 billion yuan a year earlier. BYD dropped 2.3 percent in Hong Kong after the automaker reported net income of 360.7 million yuan, compared with 426.9 million yuan a year earlier.
China CNR halted a four-day slide. China Railway Corp. should study ways of attracting funds to invest in railways, Li said during a visit to the company on Aug. 22, according to the central government's website.
Trading volumes in the Shanghai index were 5.1 percent higher the 30-day average, according to data compiled by Bloomberg. The gauge is valued at 8.2 times 12-month projected earnings, compared with 7.2 for the Hang Seng China index.
Source